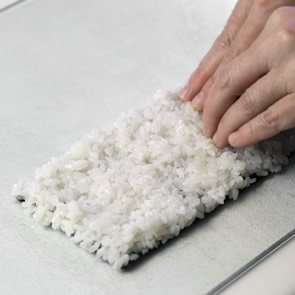 1. Prepare the sushi rice and the filling ingredients, then place half a sheet of nori on a chopping board and spread ¾ cup of cooked and cooled sushi rice evenly over the top by pressing with wet fingertips (to prevent the rice sticking to your hands).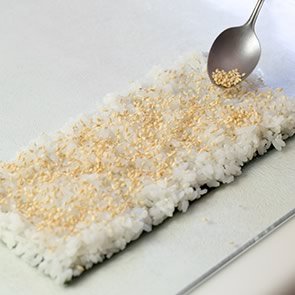 2. SPRINKLE a heaped teaspoon of toasted sesame seeds evenly over the rice.

3. WRAP a sushi rolling mat completely with plastic wrap (which prevents the rice from sticking to the mat), then place the rice-topped nori sheet on top of the mat so that the nori is facing up. Next, arrange two halves of crab stick down the center of the nori.
4. ARRANGE some strips of cucumber and avocado down the center of the nori also.
5. ROLL up the sushi tightly with the sushi mat to form a neatly packed cylinder. (You can use some of your fingers to push the filling in tight as you roll.)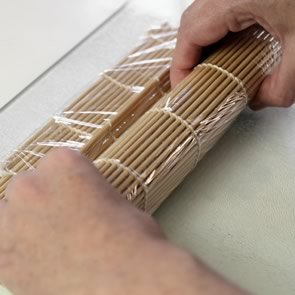 6. SQUEEZE firmly to make sure the sushi roll is tightly packed.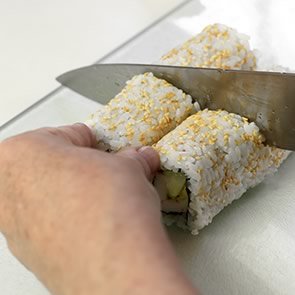 7. CUT each sushi roll in half using a sharp, damp knife, then place those two halves together and cut both in half, then cut each of those halves in half to make 8 pieces of sushi. Repeat the rolling process with the rest of the ingredients.
8. SERVE the sushi with a small bowl of shoyu (soy sauce) for dipping, wasabi paste (Japanese green horseradish), and slices of gari (Japanese pickled ginger) for cleansing the palate between sushi pieces.