FOOD & COOKING
A conversation with award-winning food writer Aglaia Kremezi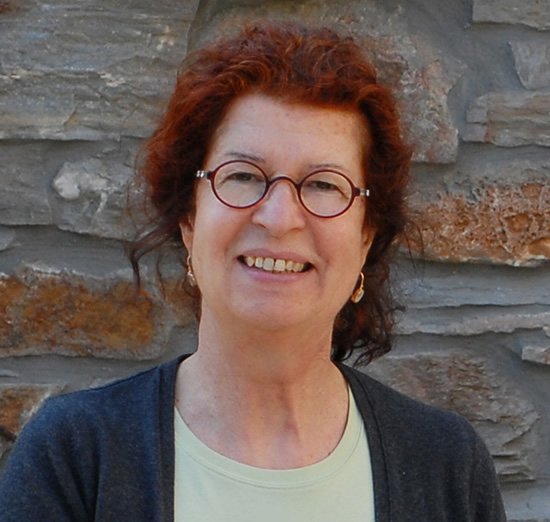 It's hard to think of anyone more passionate about Mediterranean food and cooking than Aglaia Kremezi, who is regarded as one of Greece's foremost cooking authorities. Her first cookbook, the Foods of Greece, won the Julia Child award, and she has written extensively about Greek and Mediterranean cuisine for more than 20 years in such publications as Gourmet, Saveur, Bon Appétit, the Los Angeles Times, and BBC Good Food magazine. She has also been a guest lecturer at the Culinary Institute of America, and taught at the French Culinary Institute.
As someone who adores Mediterranean cuisine myself, it was a pleasure to be able to talk to Aglaia about her cooking and her food philosophy. She was also kind enough to share one of her favorite recipes from her latest cookbook, Mediterranean Vegetarian Feasts.
Trudy: You're one of Greece's most well-known and respected food writers. How did your passion for cooking begin, and what made you decide to write about food?
Aglaia: I'd cook all the time, and invited friends to share my table even when I was working very long hours, editing weekly magazines in Athens — in the '80s and up until the late '90s. Then I decided to stop working as a journalist and editor in chief and concentrated on food writing. I cannot say exactly when and how my passion for cooking began; probably in my early childhood as I remember enjoying the time I spent with my mother in the kitchen. Later I approached every dish as a research project, much like my writing. I love to compare the urban dishes I learned from my mother with similar foods in other parts of Greece and in neighboring Mediterranean countries; then I try to recreate my own version. I absolutely enjoy the process, and usually once I am satisfied with the result, I may not cook the dish again, at least for a long time.
Trudy: What food ingredients do you think are absolutely essential for authentic Greek cooking?
Aglaia: Olive oil, of course: preferably Greek and fruity whenever added raw in salads or as a finishing touch in many dishes. Also fresh lemons which brighten with their juice, and occasionally their zest, many traditional foods; and, of course, the best seasonal produce! Fortunately now everybody, even people who live in densely populated cities, can get fabulous seasonal vegetables and fruit from the farmer's markets.
Trudy: You teach cooking to guests at Kea Artisanal at your home on the Greek island of Kea. What lessons do home cooks learn about traditional Greek cooking?
Aglaia: I would most of all like to inspire people to get to the kitchen and cook! I show them the simple and flexible ways of preparing delicious and varied dishes from the best produce of each season. I tell our visitors that recipes are not written in stone; they are just a starting point. I also pass on the basic rules of organizing the kitchen I learned from my mother, hoping I will help the participants of our classes create a hearty and healthful family meal every day, even if they lead very busy, hectic lives.
Trudy: Your cooking style showcases the Mediterranean diet with simple, seasonal recipes. Give us an idea of what you typically eat for breakfast, lunch and dinner at home.
Aglaia: For breakfast I always have traditional, not thick, full-fat sheep's milk yogurt with a variety of seasonal fruit: for example, oranges, apples and pears in the winter, peaches, nectarines and figs or plums in the summer. Lunch in our home is the main meal, as we hardly ever eat dinner. We usually have whatever seasonal vegetables our garden provides, sometimes cooked together with rice, bulgur or pasta. We often have chickpeas, beans or lentils cooked together with the vegetables or grains, complemented with feta or other cheese. Our neighbors have chicken so we often enjoy their wonderful eggs boiled or olive-oil-fried, with my homemade bread. In the summer I enjoy my freshly marinated sardines or anchovies, while in the winter I may eat the canned Greek ones that are great. Only occasionally we eat meat, free-range local veal, which is somewhat tough, but delicious! We use it as flavoring, cooking it together with vegetables or greens. Our meal always includes a salad of fresh raw garden vegetables: tomatoes and cucumbers in the summer, cabbage and romaine or other lettuce with scallions and herbs in the winter. And we always drink one or two glasses of wine!
Trudy: Your best-selling cookbook, The Foods of the Greek Islands, has recently been released in paperback; your latest book is Mediterranean Vegetarian Feasts. What made you decide to focus your new cookbook on plant-based Mediterranean food?
Aglaia: I am very fortunate that my editor Rux Martin at Houghton Mifflin, decided to re-issue in paperback The Foods of the Greek Islands –first published in 2000! Books don't get easily re-issued in these difficult days. This book is the result of many years of research, and although not heavily illustrated, it is my bestseller. Having moved permanently on Kea, Cyclades since 2001, I have adapted my everyday cooking so that it showcases the produce our small garden provides every season. Apart from Greek island recipes, in my cooking I take ideas from what cooks all over Greece, and around the Mediterranean have been doing for centuries, since antiquity. These dishes I present in my Mediterranean Vegetarian Feasts; I also describe a game plan and tips that enable everybody to prepare some things in advance, so that they can every day bring fresh, seasonal food to the table in 30 minutes or less. I feel that people will find these traditional, tested and tried recipes more inspiring than the contrived, 'healthy' recipes that abound.
Trudy: You've been close friends with fellow food writer Paula Wolfert for more than 30 years, and have traveled extensively throughout Greece with her. What has been one of your most memorable food adventures together?
Aglaia: When I was at the final stages of my first book, the Foods of Greece –which won a Julia Child award– Paula Wolfert had the best advice for me: "Choose to include only recipes that you would love to eat," she told me, "not the ones you think you must have in the book!" This solved a crucial problem we all face, I think, when we must decide what to keep and what to leave out from the plethora of recipes we collect. I was very fortunate to have Paula as my close friend, and over the years I have traveled with her not just in Greece, but in other Mediterranean countries as well. The process of seeking the traditional foods from each region was always Paula's passion, as is mine. Women gave us their recipes or described some of their favorite foods. Sometimes we had to do detective work trying to decipher a restaurant dish, as in the elusive Lazy Woman's Pie, which gives you an idea of how we worked; it also shows how each of us came up with a different, equally delicious cheese pie recipe!
Trudy: Have you got a favorite recipe from your latest cookbook that you would like to share with our readers?
Aglaia: My favorite recipes change with the seasons. But there are a few all-time favorite dishes like Leblebi, the Tunisian Chickpea soup that I learned from Paula Wolfert.
LEDLEBI (Tunisian Chickpea Soup)

Adapted from Mediterranean Vegetarian Feasts. Photo by Penny De Los Santos.
This is a dish that relies on the chickpeas so I feel that you need to take the time and slow-cook them in the oven. The canned chickpeas I have tasted were not an option, at least for me.
Serves 6 to 8
1/2 pound (225g) dried chickpeas, soaked overnight in water to cover with a pinch of baking soda added
2 to 3 cups (480 to 720 ml) vegetable broth or water, as needed
4 cloves garlic
3 tablespoons olive oil
Salt
Freshly ground pepper, to taste
Toppings (per person):
1 poached egg
Barley paximadia or 1/2 cup (about 50g) cubed whole-wheat, day-old bread, toasted in the oven
1 tablespoon harissa, preferably homemade, thinned with some water
1 pinch ground cumin
1 sun-dried tomato, soaked in warm water for 30 minutes and drained
4 to 5 black olives, preferably Kalamata
1 tablespoon rinsed capers
Diced roasted red or green peppers (optional)
Good, fruity olive oil
1 lemon wedge
Preheat the oven to 225°F (110°C).
Drain the soaked chickpeas and add to a clay casserole with a lid (a Dutch oven will work, too). Pour in the broth, and the garlic, olive oil, salt, and pepper, and extra water as needed to cover the peas by 1 inch (2.5 cm). Bring to a boil over medium heat, cover, and place in the oven for at least 3 hours, until the chickpeas are soft and silky.
When the chickpeas are cooked you can finish the dish and serve, or you can make the soup up to this point and store it in the refrigerator for up to 3 days.
When you are ready to serve, reheat the chickpeas in their liquid, while you poach the eggs. You should have one egg for each bowl of soup.
Place a few pieces of paximadia or toasted bread in the bottom of each bowl and cover with chickpeas and their cooking liquid. Set an egg on top of each bowl and cut it so that the yolk runs. Drizzle some harissa, add sun-dried tomato and roasted pepper (if using), and sprinkle with cumin and freshly ground pepper. Top with olives and capers. Drizzle with good, fruity olive oil and squeeze the lemon wedge over the soup.