STIR-FRIES
Cantonese chicken and vegetable stir-fry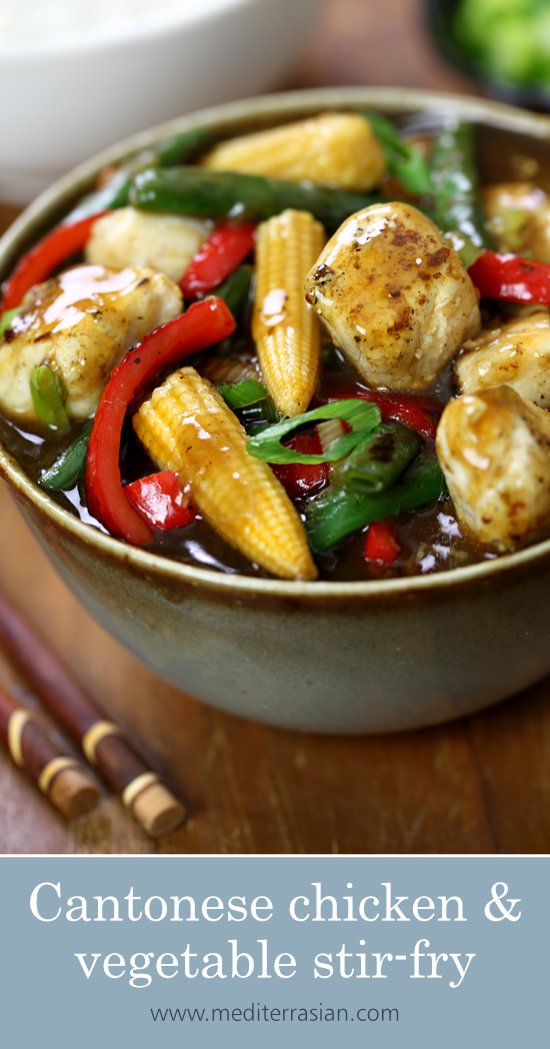 There are certain types of foods I couldn't live without. Pasta is one of them (even Epicurious has talked about my passion for pasta). Sushi is another. And joining that esteemed list is stir-fries.
There are so many things I love about stir-fries. That slightly smoky wok-tossed flavor. The amazing vibrant color that the vegetables get from quick, high heat cooking. The savory sauce that adds a glossy coating to the evenly cut morsels of food. And I also love the way I feel after a stir-fry — comfortably full and 100 percent nourished.
We've introduced you to a lot of our favorite stir-fry recipes over the years, and if you've enjoyed those recipes, we're sure you're going to enjoy this Cantonese Chicken and Vegetable Stir-Fry. I can tell you, it was extremely hard not to pick at this dish when I was photographing it — it looked and smelled so good. But I resisted long enough to capture this shot, and then Trudy and I took great pleasure in gobbling it down. And yes, it did taste as good as it looked!
Cantonese chicken and vegetable stir-fry
serves 2
Bite-size pieces of chicken stir-fried with red pepper, green beans and baby corn and coated in a glossy and flavorful Cantonese sauce.
1 cup chicken stock
3 tablespoons soy sauce
2 tablespoons oyster sauce
1 tablespoon Chinese rice wine (or dry sherry)
1 teaspoon toasted sesame oil
1 tablespoon cornstarch
3 tablespoons peanut or canola oil
12 oz (340g) raw skinless chicken breast fillets — cut into bite size pieces
1 red pepper — deseeded and cut into thin strips
16 green beans — halved
10 canned baby corn — halved
2 tablespoons finely grated fresh ginger
2 scallions — thinly sliced
2 garlic cloves — minced
MIX together the stock, soy sauce, oyster sauce, Chinese rice wine, and sesame oil in a small bowl. MIX the cornstarch to a paste with 2 tablespoons water in another small bowl. HEAT a wok or large frying pan over a high heat, add 1 tablespoon of the oil and stir-fry the chicken for 4 minutes. REMOVE the chicken from the wok and set aside on a plate. HEAT the remaining oil in the wok and stir-fry the red pepper and green beans for 4 minutes. ADD the corn, ginger, scallions and garlic and stir-fry for 1 minute. RETURN the cooked chicken to the wok then, stirring continuously, add the sauce mixture and cornstarch paste. COOK for 30 seconds to heat through, then serve with rice or noodles.