APPETIZERS
Tuscan chickpea and spinach fritters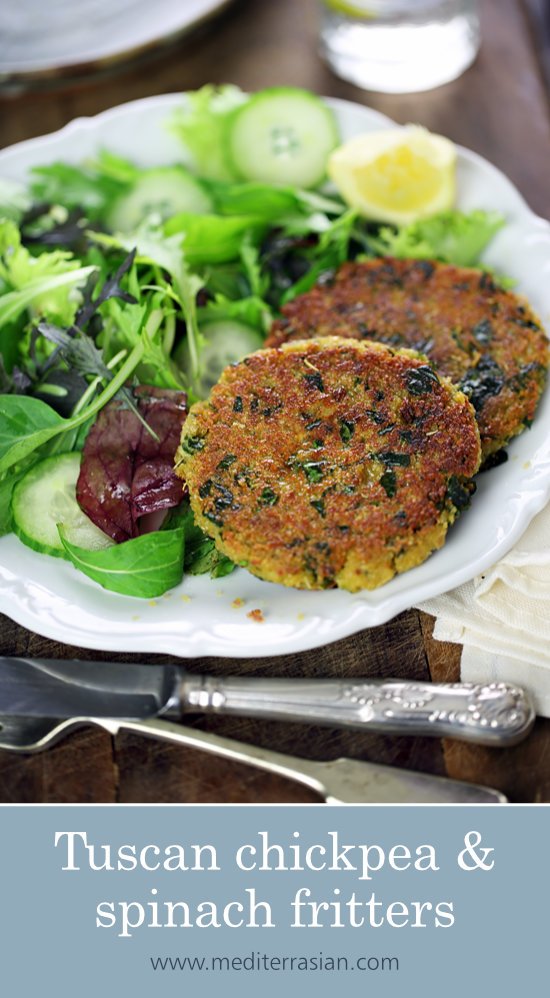 We've always loved the simplicity of Italian food, especially the clever use of beans to create all sorts of hearty and frugal meatless dishes from soups to salads to pasta dishes and stews. People living in the Tuscany region of Italy are especially in love with beans, and they are known throughout Italy as mangiafagioli or the bean-eaters. This fritter recipe is inspired by the flavors of Tuscany and is packed with protein, fiber and vitamins.
The basic mixture is made from dried chickpeas (garbanzo beans) which are soaked in water overnight, drained, and then pulsed in a food processor with onion, garlic, salt and pepper. Fresh spinach, dried rosemary and tomato paste are then added for flavor and texture. We then pan-fry the fritters in olive oil, which gives them a lovely crispy texture on the outside.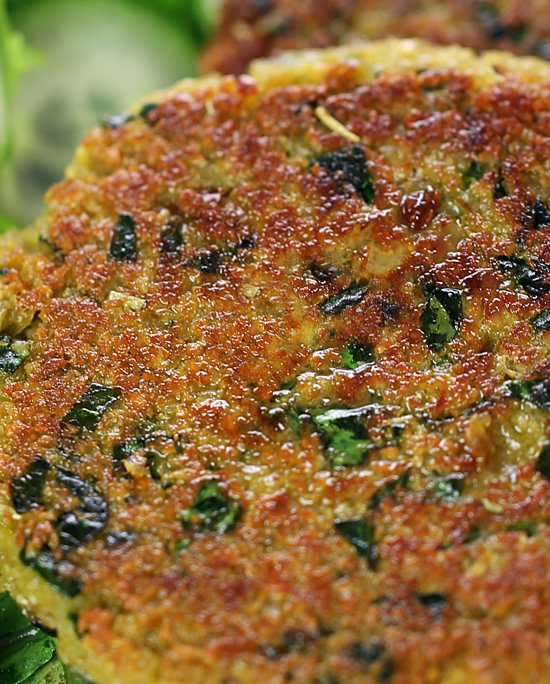 The chickpeas, spinach and Italian seasonings work really well together in these fritters, but you can also use a variety of other vegetables, herbs and spices to create a range of flavor profiles: For Indian fritters add curry powder with the spinach (or use green peas) and omit the rosemary and tomato paste; for Greek fritters simply combine the chickpea mixture with tomato paste and spinach (or use a grated zucchini) together with herbs like dried oregano and fresh parsley; make a Moroccan version with grated carrot and spices including ground cumin, ginger, cinnamon and paprika with fresh parsley and/or cilantro (fresh coriander); create Spanish-style fritters with smoked paprika, tomato paste, parsley, and chopped roasted red pepper; or recreate the classic flavors of falafel with Middle-eastern seasonings such as cumin and coriander.
Because these fritters are so versatile we usually make up a big batch of the basic mixture (chickpeas, onion, garlic, salt and pepper) and then add the seasonings and vegetables of our choice just before cooking. The mixture can be kept in an airtight container in the fridge for up to a week or frozen for up to three months.
Tuscan chickpea and spinach fritters
Serves 4
Protein-packed chickpea fritters with spinach and rosemary. Delicious served as a fritter with salad, and they also make super tasty veggie burger patties.
8 oz (230g) dried chickpeas (garbanzo beans)
1 onion — diced
1 garlic clove — roughly chopped
1 tablespoon tomato paste
1 teaspoon dried rosemary
1 teaspoon salt
½ teaspoon ground black pepper
1 cup packed fresh spinach — finely chopped
6 tablespoons olive oil, for frying

SOAK the chickpeas overnight in plenty of cold water, covered, on the kitchen bench (the dried chickpeas will swell to around 3 cups worth of soaked chickpeas). DRAIN the chickpeas well and place in a food processor. PULSE until they form a roughly chopped mixture. ADD the onion, garlic, tomato paste, rosemary, salt and pepper and pulse more, scraping the sides occasionally, until the ingredients are well combined and the mixture holds together. TRANSFER the mixture into a bowl and stir in the spinach, then let the mixture rest in the fridge for 30 minutes. HEAT 3 tablespoons of olive oil in a large frying pan over medium heat. FORM the mixture into 8 fritters using the palm of your hand to flatten slightly (dampen your hands first to help prevent sticking). FRY half the fritters for 5 minutes on each side until crisp and golden. REPEAT the process with the remaining olive oil and fritters.

Serving ideas: You can serve these fritters with salad and crusty bread, or between sliced ciabatta bread with tomato, red onion, arugula (rocket), shaved Parmesan cheese and either pesto-mayo or aioli. They're also delicious stuffed in pita pickets with salad vegetables, chili sauce (like sriracha) and feta or grilled halloumi cheese, which provides a salty cheesy contrast to the spinach. The fritters taste equally as good served in regular buns with traditional burger fixings like cheese, lettuce, tomato, onion, ketchup and mustard.