SALADS
Falafel bowl with tahini dressing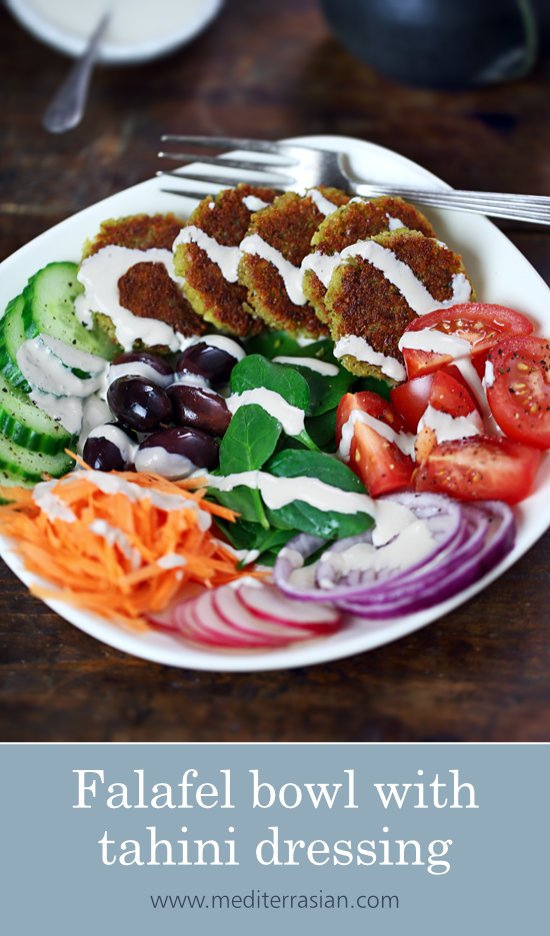 Just reading the ingredients in this recipe makes you feel healthier. This dish encapsulates everything we love about Middle Eastern food: fresh colorful veggies, crispy falafel and creamy tahini dressing. This superfood bowl is brimming with delicious flavors and textures, and it's also loaded with protein, good carbs, good fats and antioxidants — nutrition nirvana!
Falafel are made with chickpeas, onion, garlic, herbs and spices, and are a great source of fiber. Traditionally they're deep-fried, but we prefer to pan-fry ours for a less caloric (yet just as tasty) version. We serve this bowl of goodness with fresh or toasted pita wedges to make it a balanced meal on its own. You can also stuff it all into a pita pocket or wrap if you like.
Falafel bowl with tahini dressing
Serves 2
This superfood bowl is brimming with delicious flavors and textures.
½ portion of
Falafel mixture
½ garlic clove — minced
¼ cup tahini (sesame seed paste)
1/3 teaspoon salt
2 tablespoons lemon juice
3 tablespoons water
3 tablespoons extra virgin olive oil
1 cup baby spinach leaves
10 Kalamata olives
1 carrot — grated
2 tomatoes — cut into wedges
¼ cucumber — thinly sliced into rounds
¼ red onion — thinly sliced into rings
2 radishes — thinly sliced into rounds
MAKE the falafel mixture. MAKE the tahini dressing by placing the garlic, tahini, salt, lemon juice and water in a small bowl and mixing thoroughly to combine. HEAT the olive oil in a large frying pan over medium heat. FORM golf ball-size spoonfuls of the falafel mixture (about 1 heaped tablespoon each) and flatten slightly with the palm of your hand (dampen your hands first to help prevent sticking). FRY the patties for 5 minutes on each side until crisp and golden. ARRANGE the spinach, olives, carrot, tomatoes, cucumber, red onion, radishes and cooked falafel in a bowl. DRIZZLE the tahini dressing on top.