SALADS
Greek chopped salad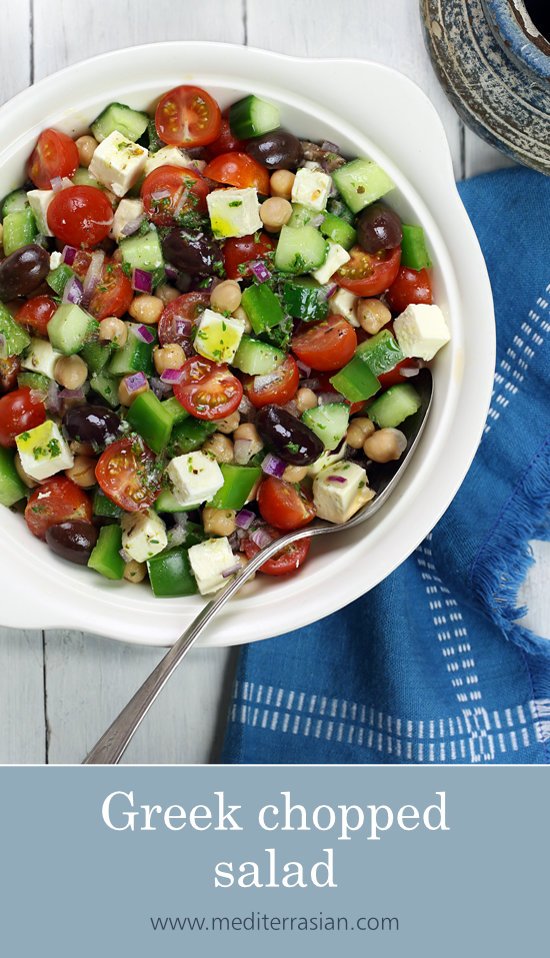 If you've had a good browse through our Recipe Index you might have noticed that the Salads section is by far the largest section. That's simply because we eat a LOT of salads. And we're not talking rabbit food salads made mostly of lettuce leaves. We're talking hearty, flavor-packed Mediterranean and Asian salads that fill you up and keep you satisfied.
This Greek Chopped Salad is a perfect example. It's chock full of colorful and filling vegetables, plump protein-rich chickpeas, and cubes of creamy feta cheese, all dressed in a herby olive oil vinaigrette. It's literally a complete healthy balanced meal in its own right.
It also works great in smaller amounts as a side salad with grilled fish or chicken. That's how we enjoyed it last night. In fact we purposely made more dressing for the salad than we needed and used the rest as a marinade for fresh tuna steaks - which turned out great!
This salad also tastes delicious stuffed in whole wheat pita pockets or wraps. And it makes a really yummy bruschetta topping.
Greek chopped salad
Serves 4
A chopped version of a classic Greek salad, with the addition of plump protein-packed chickpeas, all dressed in a herby olive oil vinaigrette.
4 tablespoons extra virgin olive oil
2 tablespoons lemon juice
1 clove garlic — minced
½ teaspoon dried oregano
1 tablespoon finely chopped flat leaf parsley
½ teaspoon salt
½ teaspoon freshly ground black pepper
1 cup cherry tomatoes — halved
¼ red onion finely diced
1 cup diced cucumber
1 green pepper — diced
4 oz (115g) feta cheese — cut into small cubes
1 cup canned chickpeas
12 Kalamata olives — halved
PLACE the olive oil, lemon juice, garlic, oregano, parsley, salt and pepper in a small jar with a screw-top lid and shake to combine. PLACE all the salad ingredients in a large bowl. POUR the dressing over the top and toss gently to combine.