GRILLED & BAKED DISHES
Moroccan shrimp and vegetable skewers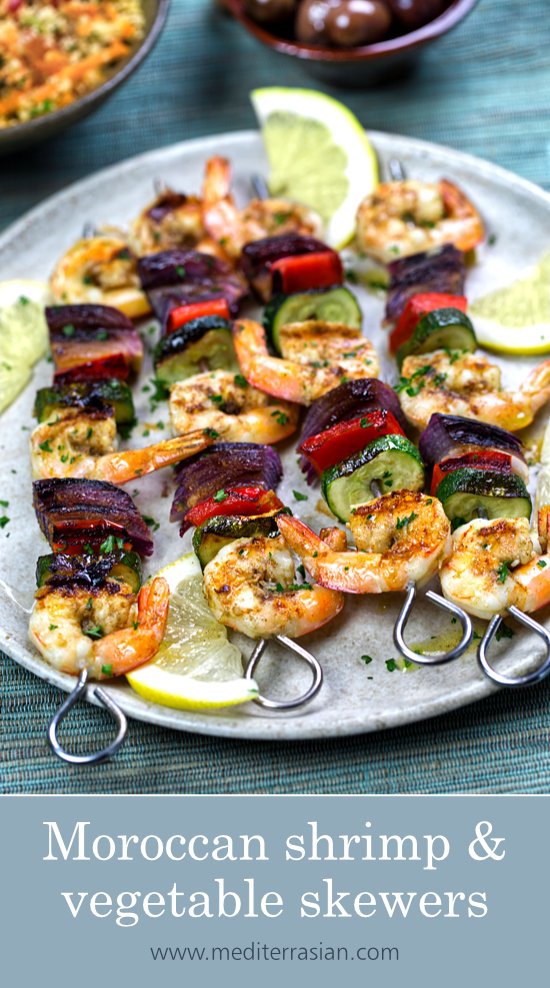 When I was a kid, barbecues meant one thing to me — meat, meat and more meat. At the time, sheep outnumbered people here in New Zealand 20 to 1, so lamb chops were always on the barbecue menu, along with big slabs of beef. Salad was merely a garnish.
Fast forward to today, and my definition of a good barbecue has certainly changed! Inspired by Mediterranean and Asian cuisines, fish and shellfish now play a starring role. Grilled fish and shellfish like tuna, shrimp, scallops, swordfish and salmon taste every bit as good (and better in my opinion) as grilled beef steaks or lamb chops — especially when combined with traditional Mediterranean and Asian marinades.
Fish and shellfish also contain the same type of high-quality protein as red meat, but far less calories. An 8-ounce sirloin steak, for example, contains more than 400 calories, compared to an 8-ounce tuna steak which contains only around 240 calories. Fish and shellfish are also a great source of health-giving omega-3 fatty acids.
And vegetables most definitely aren't just a barbecue garnish anymore. These Moroccan shrimp and vegetable skewers give you an idea of just how delicious grilled marinated vegetables can be. In fact whenever Trudy and I hit the grill we always have plenty of vegetables on hand to cook up. We've found that the best veggies for marinating and grilling are bell peppers, zucchini, eggplant, mushrooms, red onions and cherry tomatoes.
The plant slant of our barbecues doesn't stop there either. We always make at least two Mediterranean and Asian salads to accompany whatever protein we've cooked. These salads are generally very hearty and often contain not only vegetables but also grains, beans, nuts and seeds. (Check out the Salads section of our site to give you an idea of the sort of tasty salads I'm talking about).
Moroccan shrimp and vegetable skewers
makes 6 skewers
Deliciously smoky grilled shrimp and vegetable skewers coated in a Moroccan-spiced lemon and olive oil marinade.
6 metal or wooden skewers (soak wooden skewers in water before use)
3 tablespoons extra virgin olive oil
2 tablespoons lemon juice
1 garlic clove — minced
1 teaspoon ground cumin
1 teaspoon ground coriander
¼ teaspoon cinnamon
¼ teaspoon salt
18 large uncooked shrimp — peeled
1 red pepper — cut into small pieces
1 zucchini — sliced into rounds
1 red onion — cut into small wedges
1 tablespoon finely chopped flat-leaf parsley
MIX together the olive oil, lemon juice, garlic, cumin, coriander, cinnamon and salt in a small bowl until well combined. THREAD the shrimp and vegetables onto the skewers, then brush evenly with the marinade. PLACE the skewers in the fridge and marinate for at least 30 minutes. COOK the skewers on a hot grill for 8 minutes, turning and brushing regularly with the marinade. SPRINKLE the cooked skewers with the chopped parsley and serve.