GRILLED & BAKED DISHES
Roasted vegetable medley with rosemary, garlic and lemon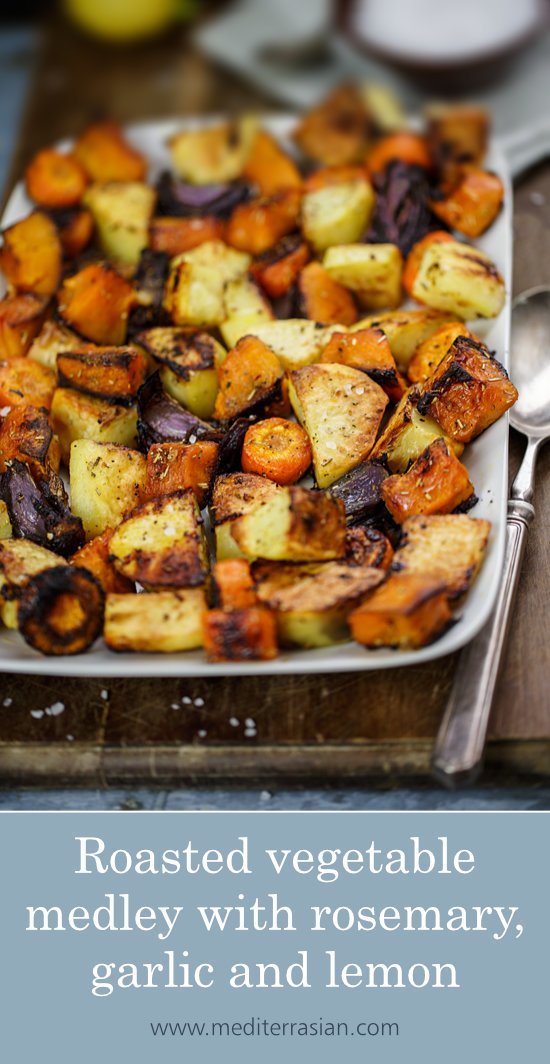 This Roasted Vegetable Medley with Rosemary, Garlic and Lemon makes a tasty alternative to traditional roast veggies.
The beauty of these roasted vegetables is their simplicity — and there are a few tricks we've learned which guarantee great results. Start by cutting the vegetables into uniform bite-size pieces so that they'll cook evenly, and then pat them dry with a paper towel to remove excess moisture, which helps them roast up better. You need to provide ample oil so that the vegetables turn crispy during roasting. Not swimming in oil, but enough to coat all the vegetables well. We've found that it's easiest to toss the vegetables with the oil mixture in a large bowl, using your hands to mix well, before transferring to a baking dish — one that's large enough to fit the veggies in a single layer.
It's best to serve these roasted vegetables piping hot straight from the oven to retain their crisp texture. However, you can roast them ahead of time and reheat them briefly in the oven to crisp up. Leftover roasted veggies (if there are any!) are great on pizzas, in pies, frittatas and quiches, stirred into risottos, pasta dishes and bakes like lasagnas, added to stews and curries, tossed into salads, blended into soups, or eaten straight from the fridge as a snack.
Roasted vegetable medley with rosemary, garlic and lemon
serves 4
Bite-sized pieces of roasted butternut squash, potatoes, carrots and red onions seasoned with rosemary, garlic and lemon.
6 tablespoons extra virgin olive oil
1 tablespoon lemon juice
1 teaspoon finely chopped lemon zest
4 garlic cloves — finely chopped
1½ teaspoons dried rosemary
1 teaspoon salt
½ teaspoon freshly ground black pepper
28 oz (800g) peeled potatoes (floury potatoes such as Russet or Idaho are best) — cut into bite-size pieces
24 oz (680g) peeled butternut squash — cut into bite-size pieces
2 carrots — peeled and cut into thick rounds
1 red onion — cut into 8 wedges
PREHEAT the oven to 425ºF/220ºC. PLACE the oil, lemon juice and zest, garlic, rosemary, salt and pepper in a screw-top jar and shake to combine. TOSS ¾ of the mixture with the vegetables in a large bowl until well coated. TRANSFER the vegetables to a large baking dish lined with baking paper. BAKE for 50 minutes, tossing half way through. REMOVE from the oven, add the reserved oil-lemon mixture to the baking dish, and toss with the roasted vegetables until combined.