GRILLED & BAKED DISHES
Salmon, leek and potato gratin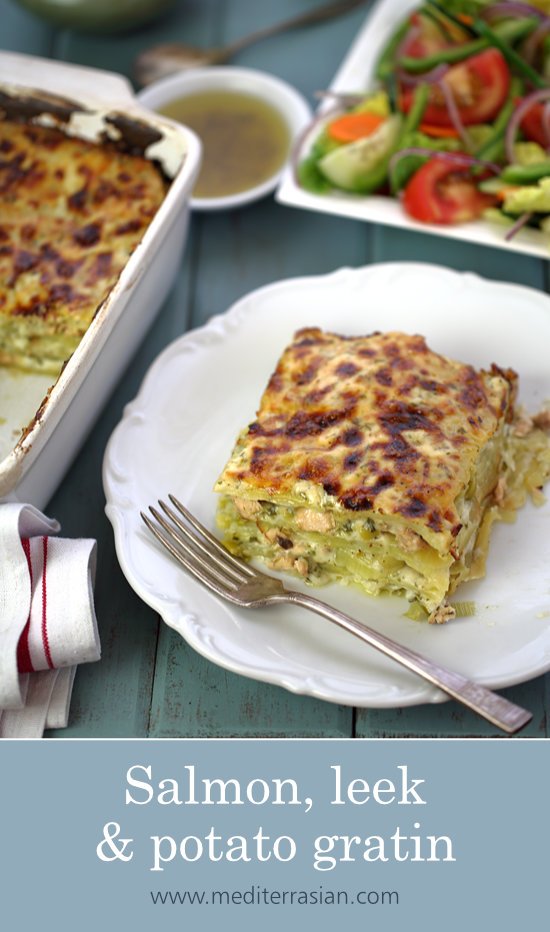 We've been making versions of this potato gratin for years. It's creamy, cheesy and comforting, but instead of making this gratin with cream, we use a béchamel sauce made with milk and two cheeses, Gruyère and Parmesan, together with parsley, thyme and Dijon mustard, which gives it a lovely flavor and highlights the taste of the leek and salmon.
For this recipe there's no need to par-cook the potatoes first, but you do need to slice the potatoes very thinly and evenly to ensure the layers cook until completely tender. To make the job easier we use a mandoline (vegetable slicer). Or you can put the potatoes through the slicer attachment in a food processor (You can also slice the leeks this way too.)
Feel free to tinker with this basic recipe to your heart's content. Try substituting some or all of the potato with thinly sliced sweet potato or butternut squash. You can also use different vegetables in place of the leeks, including sliced mushrooms, red onion, asparagus, peppers, or peas.
You can also make flavorful substitutions to the basic béchamel sauce: use fresh herbs instead of dried like rosemary or basil; add ingredients like capers, olives or sun-dried tomatoes; incorporate different cheeses like sharp cheddar or blue cheese or use a combination of your favorites; and you can substitute a little white wine for some of the milk.
This gratin makes a filling meal by itself, but we enjoy serving it with a fresh side salad to balance the richness. It also tastes delicious for lunch the next day, either served at room temperature or reheated.
Salmon, leek and potato gratin
Serves 4
A mouthwatering bake with layers of thinly sliced leek and potato combined with tender and flaky canned salmon and a Gruyère-Parmesan cheese sauce.
3 tablespoons extra virgin olive oil
2 cloves garlic — finely chopped
½ teaspoon finely grated lemon zest
½ teaspoon dried thyme
4 tablespoons flour
2 cups milk
1 teaspoon salt
½ teaspoon freshly ground black pepper
1 teaspoon Dijon mustard
½ cup finely grated Parmesan cheese
½ cup grated Gruyère cheese
2 tablespoons finely chopped fresh flat-leaf parsley
1 tablespoon lemon juice
4 floury potatoes (such as Russet or Idaho)
1 leek — sliced into thin rounds
14 oz (400g) canned red salmon — bones removed and broken into chunks
Preheat the oven to 400°F/200°F. Heat the oil in a saucepan over medium heat. COOK the garlic, lemon zest and thyme for 2 minutes. ADD the flour and cook 1 minute, stirring to combine. REMOVE from the heat and gradually add the milk, stirring constantly, then return to the heat and cook, stirring, until thickened. ADD the salt, pepper, Dijon mustard and ¾ cup of the combined Parmesan and Gruyère cheese (reserving ¼ cup) and stir until the cheese melts. REMOVE from the heat and stir in the parsley and lemon juice. GREASE an 8-inch (20cm) square baking dish lightly with olive oil. PEEL the potatoes and slice very thinly (using a mandoline or slicing attachment on a food processor is easiest). PLACE one sliced potato in a layer on the bottom of the baking dish, overlapping slightly. ARRANGE one third of the sliced leek and salmon evenly on top. SPOON over one quarter of the cheese sauce. REPEAT the layers with the remaining potatoes, leek and salmon, finishing with the final layer of potato and topping with the last quarter of cheese sauce. SPRINKLE with the reserved ¼ cup of grated cheese. COVER with foil and bake for 45 minutes, then remove the foil, and bake for a further 30 minutes. ALLOW the gratin to stand 10 minutes before serving.