APPETIZERS
Sizzling shrimp with feta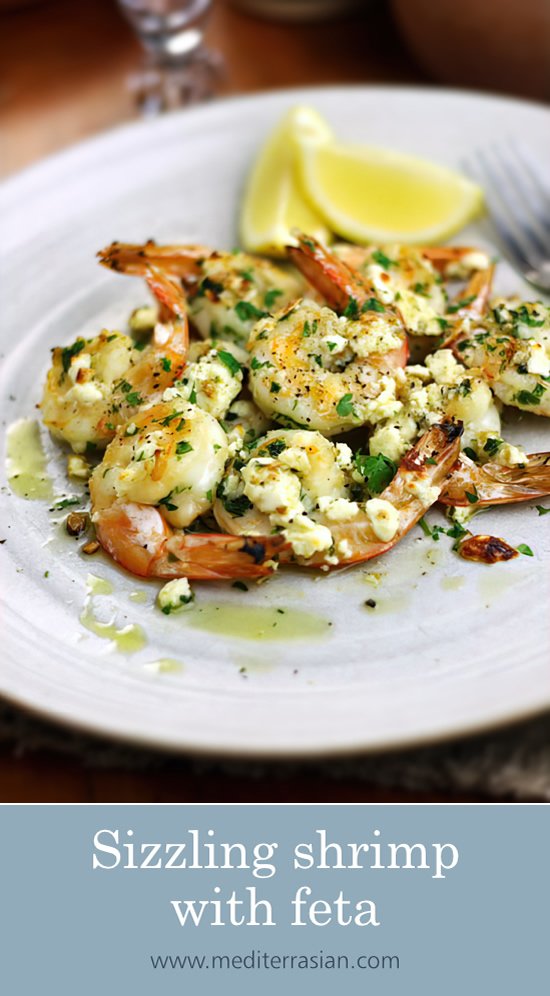 In this simple but delicious recipe, succulent shrimp are topped with crumbled feta cheese, and then flashed under the broiler until sizzling and golden. The shrimp and feta are infused with the flavors of olive oil, garlic and parsley, which are classic ingredients in Greek cuisine.
This recipe makes a fantastic appetizer, either eaten by itself or with some crusty bread to mop up the garlicky oil. It would also make a lovely meal tossed with pasta and served with a salad on the side.
Sizzling shrimp with feta
serves 2
This Greek meze (appetizer) features succulent shrimp seasoned with garlic and flat-leaf parsley and served with crumbled and lightly broiled feta cheese.
12 large uncooked shrimp — peeled and deveined
2 tablespoons plus 1 teaspoon extra virgin olive oil
2 cloves garlic — finely chopped
1 tablespoon finely chopped fresh flat-leaf parsley
¼ teaspoon salt
2½ oz (70g) feta cheese
Freshly ground black pepper to season
HEAT 2 tablespoons of the oil in a frying pan over a medium heat. ADD the shrimp, garlic and half the parsley and cook for 1 minute, stirring continuously. REMOVE the skillet from the hot plate and crumble the feta over the shrimp. PLACE the skillet under a hot oven broiler (griller) for two minutes. SERVE on plates, drizzle with the teaspoon of olive oil, garnish with the remaining parsley and season with the freshly ground black pepper.

Tip: To turn this appetizer into a complete meal simply add a side salad and some crusty bread.