SALADS
Teriyaki chicken rainbow bowl
This delicious and nourishing teriyaki chicken bowl can be varied endlessly. The main component is the teriyaki chicken - which takes less than 5 minutes to prepare. Then once you pop it in the oven for the 20 minute cooking time (which results in perfectly moist and tender chicken breast) you can decide what other ingredients to enjoy with it.
Traditional Japanese meals typically include some type of grain food such as rice or noodles. As we had some soba noodles on hand we decided to use them (lightly dressed with soy sauce and sesame oil). We also had some corn and edamame in the freezer, which we quickly zapped in the microwave. Then we raided the fridge for fresh crispy veggies and found some carrots, cucumber, red pepper, radishes and scallions.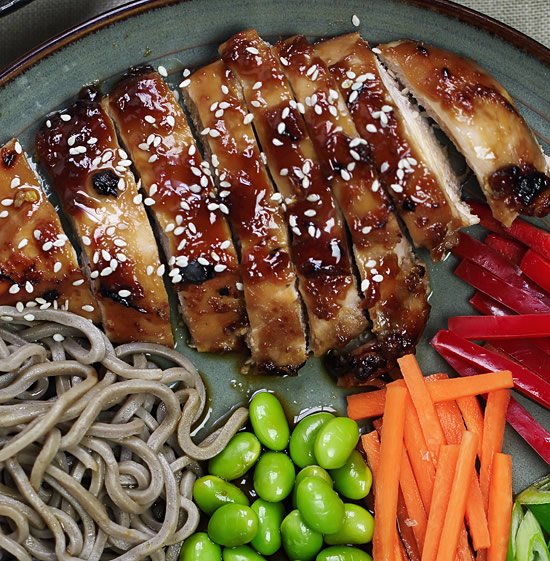 The end result not only tasted great, it looked great too! Here are some other ideas for grain foods and veggies to go in a teriyaki chicken bowl:
Short grain rice
Brown rice
Somen noodles
Udon noodles
Millet
Avocado
Shredded red cabbage
Mushrooms
Bean sprouts
Snow peas
Yellow or orange peppers
Seasoned seaweed
Cubed roasted sweet potato
Cubed roasted pumpkin or winter squash
Grilled eggplant
Grilled zucchini
Lightly steamed asparagus

Teriyaki chicken bowl
Serves 2
Succulent baked teriyaki chicken served with seasoned soba noodles and a nourishing collection of crisp and colorful vegetables.
2 teaspoons cornstarch (cornflour)
5 tablespoons Japanese soy sauce
2½ tablespoons mirin (Japanese sweet rice wine)
1½ tablespoons sugar
2 uncooked skinless chicken breast fillets
2 teaspoons toasted sesame oil
3½ oz (100g) dried soba noodles
½ cup frozen corn kernels
½ cup frozen edamame beans
1 carrot — peeled and cut into thin strips
½ cup thinly-sliced cucumber
½ red pepper — cut into thin strips
2 radishes — thinly sliced
1 scallion — thinly sliced
ADD the cornstarch to a small bowl. SLOWLY add 4 tablespoons of the soy sauce, mixing constantly, until the cornstarch has dissolved. STIR in the sugar and 2 tablespoons of the mirin. HEAT the sauce mixture in a saucepan over a high heat, stirring constantly, until the mixture thickens. PREHEAT the oven to 450°F/230°C. PLACE the chicken in a baking tray lined with baking paper and spoon the teriyaki sauce on top of each fillet (use the back of the spoon to spread the sauce out evenly). BAKE for 20 minutes. WHILE the chicken bakes, cook the soba noodles according to package directions then toss with the sesame oil and remaining tablespoon of soy sauce and ½ tablespoon of mirin. REMOVE the chicken from the oven, allow to rest for 5 minutes, then thickly slice. SERVE the chicken and noodles in large bowls with the corn, edamame, carrot, cucumber, red pepper, radishes and scallion.