SALADS
Antipasto pasta salad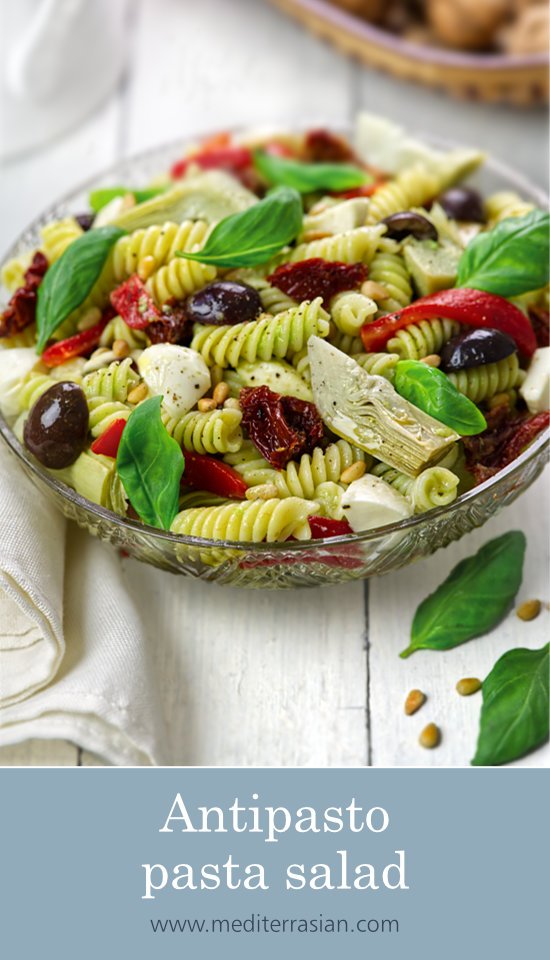 Antipasto literally means "before the meal" in Italian. It's a course designed to whet your appetite for the meal ahead, and typically consists of a selection of cheeses, olives, cured meats and various marinated vegetables.
Long ago we discovered that many of the yummy ingredients enjoyed as part of an antipasto course also work really well in a pasta salad. In fact over the years we've experimented with many different versions of antipasto pasta salad - but the version we're presenting to you today is by far our favorite.
It's chock full of traditional Italian ingredients including olives, fresh mozzarella, roasted red peppers, sun-dried tomatoes, artichoke hearts and toasted pine nuts. But what brings it all together so beautifully is the dressing, which is made from a creamy mix of extra virgin olive oil, Parmesan cheese, fresh basil and a little garlic and white wine vinegar.
When all these ingredients are tossed with cold pasta, the results are sublime! It's easily the best pasta salad we've ever eaten, especially when it's made with fusilli (corkscrew pasta) because the dressing gets deliciously soaked up into the twists and crevices.
We've found that there's no need to use cured meats in this salad because the flavors are already so robust. But feel free to add a little chopped prosciutto or salami if you wish.
Antipasto pasta salad
Serves 4-6
A rustic and mouthwatering pasta salad chock full of traditional Italian ingredients including olives, fresh mozzarella, roasted red peppers, sun-dried tomatoes and artichoke hearts, all coated in a creamy basil and Parmesan dressing.
8 oz (250g) fusilli (corkscrew) pasta
½ cup finely grated Parmesan cheese
¼ cup extra virgin olive oil
1 tablespoon white wine vinegar
1 tablespoon water
1 clove garlic — roughly chopped
¼ teaspoon salt
¼ teaspoon freshly ground black pepper
10 fresh basil leaves, plus extra for garnishing
5 oz (120g) fresh mozzarella — cubed
12 pitted black olives — halved
½ cup jarred roasted red peppers — cut into strips
1 cup canned artichoke hearts — sliced
½ cup sun-dried tomatoes — chopped
¼ cup pine nuts — lightly toasted
COOK the pasta according to package directions. WHILE the pasta is cooking, place the Parmesan, olive oil, vinegar, water, garlic, salt, pepper and 10 basil leaves in a food processor or blender and process until smooth, scraping the sides occasionally. RINSE the cooked pasta under cold water and drain thoroughly. ADD the pasta to a large salad bowl along with the mozzarella, olives, roasted red peppers, artichoke hearts, sun-dried tomatoes and toasted pine nuts. ADD the dressing and toss gently to combine. GARNISH the salad with basil leaves and serve.