SIDE DISHES
Sicilian roasted cauliflower with raisins and whole wheat chili-anchovy crumb
This simple and rustic Sicilian roasted cauliflower recipe makes an excellent side dish to serve with grilled or roasted chicken or fish. It proves that cauliflower need not be mushy and bland, or smothered in cheese sauce to be tasty.
When cauliflower is roasted the florets brown on the outside and develop a wonderful nutty flavor. The chili-anchovy crumb adds texture and a lovely salty-spiciness to the dish. The raisins provide a sweet contrast, and the parsley adds a flourish of color and flavor.
Savory breadcrumb mixtures are popular in Sicilian cooking, commonly to use up stale bread. They can be sprinkled over pasta dishes and risottos (often referred to as 'poor man's Parmesan'), scattered on top of cooked spinach, broccoli and green beans, or tossed with salads to add taste and texture. You can also use the breadcrumb mixture, uncooked, to coat foods like fish or chicken, before frying or baking until brown and crispy. We've also mixed the uncooked crumbs with chopped fresh tomato and parsley, spooned the mixture onto mussels in the half shell, and placed them under a hot broiler (griller) for a few minutes until sizzling and golden.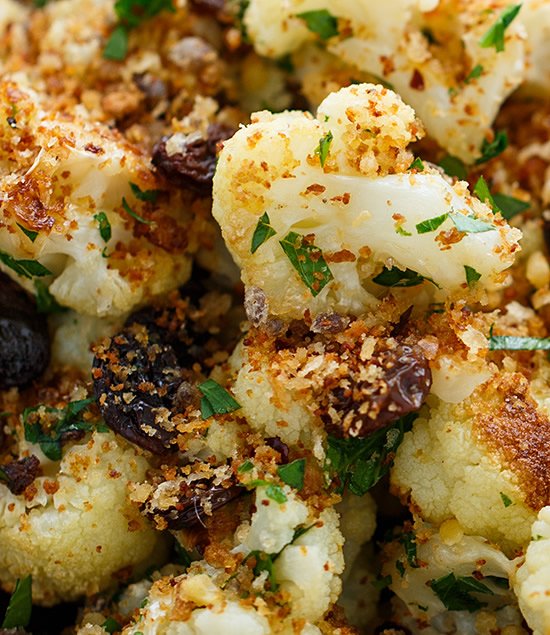 We like to make our own breadcrumbs using whole wheat bread for extra flavor and nutrients, however you can use any bread you like, crusts and all. You can also add other flavorings to the crumbs like lemon zest, and herbs such as parsley or rosemary, if you wish. And you can replace the cauliflower with broccoli florets, or a combination of both works well.
This dish can be served warm, or it makes a delicious salad served at room temperature. We've also tossed leftovers with pasta and sprinkled with a little Parmesan cheese for a main meal.
Sicilian roasted cauliflower with raisins and whole wheat chili-anchovy crumb
Serves 4
A simple Sicilian side dish of roasted cauliflower tossed with plump raisins, flat-leaf parsley, and a crispy whole wheat chili-anchovy crumb.
1 cauliflower — cut into florets
4 tablespoons extra virgin olive oil
1 teaspoon salt
¼ cup raisins
2 tablespoons finely chopped fresh flat-leaf parsley
3 slices whole wheat bread — roughly torn into pieces
6 anchovies — chopped
1 clove garlic — chopped
1 teaspoon dried chili flakes

PREHEAT the oven to 400°F/200°C. TOSS the cauliflower florets with 3 tablespoons of olive oil and the salt and place in a single layer on a large baking tray. BAKE for 20 minutes. WHILE the cauliflower cooks, prepare the anchovy-chili crumb. PLACE the bread in a food processor, and pulse to make coarse breadcrumbs. ADD the anchovies, chili flakes, garlic and tablespoon of olive oil and process until well combined and the crumbs are finer. SPREAD the crumbs evenly in a single layer on a separate baking tray. TOSS the cauliflower after 20 minutes of cooking, then place the breadcrumbs on the oven rack directly under the cauliflower. BAKE together for 10 minutes. SOAK the raisins in ¼ cup boiling water for 10 minutes, then drain. REMOVE the cauliflower and breadcrumbs from the oven. TOSS the cauliflower with the raisins and parsley until well combined. LET cool slightly, then transfer to a serving dish and combine with the chili-anchovy crumb just before serving (or else the crumb will go soggy).