SALADS
Cherry tomato, avocado and arugula salad with balsamic vinaigrette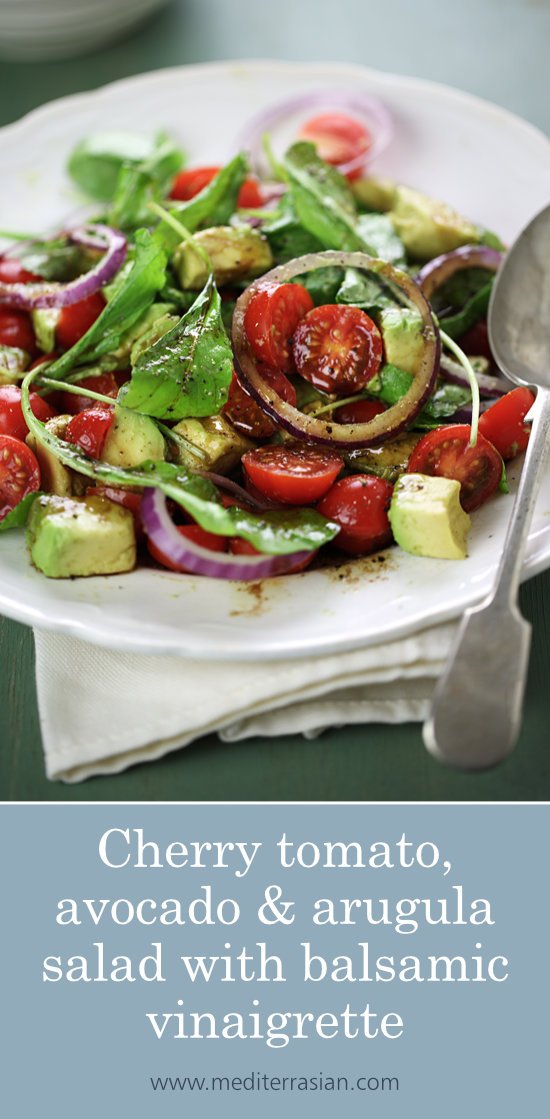 Want to know an easy and tasty way to keep your blood pressure in check? Simply enjoy a leafy green salad tossed with an olive oil based dressing. New research from King's College, London has found that when salad greens are combined with olive oil — which is rich in unsaturated fat — it creates a special chemical reaction in the stomach. This creates compounds called 'nitro fatty acids' which in turn react with an enzyme to lower high blood pressure.
The researchers also found that combining leafy greens with other foods rich in unsaturated fats, such as avocados and nuts, could also lower blood pressure. So this salad, which contains leafy greens, olive oil and avocado is just what the doctor ordered. It also happens to have a wonderful blend of flavors and textures and is fantastic served as a side salad with pasta, risotto, paella, pizza, and anything grilled including fish, seafood and chicken. It also makes a great bruschetta topping (the bread soaks up the dressing beautifully).
For variety, toss in a handful of toasted pine nuts or walnuts (which add more unsaturated fat, plus fiber), replace the balsamic vinegar with lemon juice, or add some shaved Parmesan cheese or cubed feta instead of avocado. You can also easily turn it into a more hearty and protein-rich salad by adding some salmon, tuna, shrimp, beans or shredded rotisserie chicken.
Of all the leafy greens we like to use in salads, arugula (also known as rocket) is at the top of the heap. It's got a nutty, peppery taste and slight bitterness that sets it apart from lettuce and other salad leaves. Its distinctive flavor stands up well to sweet, rich and sharp ingredients, such as the cherry tomatoes, avocado and balsamic vinegar in this salad.
Cherry tomato, avocado and arugula salad with balsamic vinaigrette
Serves 4
Sweet cherry tomatoes, creamy avocado, peppery arugula (rocket) and sliced red onion dressed with a tangy balsamic vinaigrette.
2 cups cherry tomatoes — halved
1 avocado — cut into small cubes
¼ red onion — thinly sliced and separated into rings
2 cups arugula (rocket)
3 tablespoons extra virgin olive oil
1½ tablespoons balsamic vinegar
½ garlic clove — minced
½ teaspoon salt
½ teaspoon freshly ground black pepper

PLACE the cherry tomatoes, avocado, red onion and arugula in a bowl. PLACE the oil, vinegar, salt and pepper in a jar with screw-top lid and shake to combine. DRIZZLE the dressing evenly over the salad and toss gently to combine and coat everything well.