SANDWICHES & PIZZA
Pesto bruschetta topped with tuna, white bean, cherry tomato and artichoke salad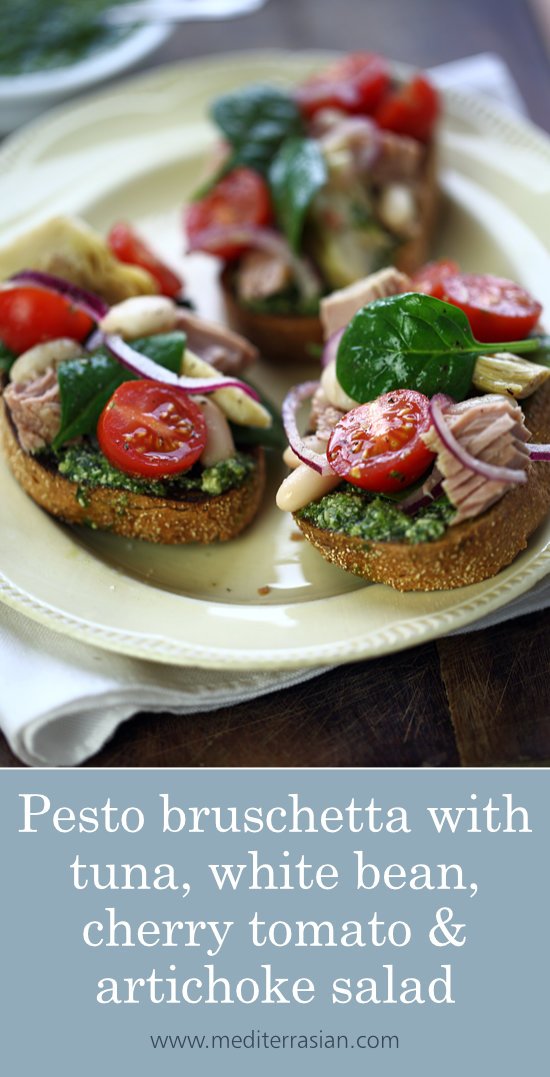 This pesto bruschetta is particularly easy to put together because there's no need to rub the toasted bread with garlic or drizzle with olive oil because the pesto contains both these ingredients. So it's just a simple matter of spreading the toasted bread with some store-bought pesto and half the recipe is completed.
The colorful and flavorful salad which tops the bruschetta is also really easy to whip up because most the main ingredients (tuna, white beans, artichoke hearts) are straight from a can or jar.
Pesto bruschetta topped with tuna, white bean, cherry tomato and artichoke salad
Serves 4
Bruschetta spread with pesto and topped with a flavorful combination of tuna, cannellini beans, cherry tomatoes, artichoke hearts, baby spinach leaves and sliced red onion.
8 thick slices of crusty Italian-style bread (ciabatta is ideal)
⅓ cup pesto — ready-made or homemade pesto
6 oz (170g) canned tuna in olive oil — drained and broken into chunks
1 cup baby spinach leaves — washed and dried
¼ small red onion — thinly sliced
½ cup canned cannellini beans — rinsed and drained
1 cup quartered jarred artichoke hearts
1 cup cherry tomatoes — halved
1½ tablespoons extra virgin olive oil
1 tablespoon lemon juice
½ garlic clove — minced
¼ teaspoon salt
¼ teaspoon freshly ground black pepper
PREHEAT the oven broiler (griller). PLACE the olive oil, lemon juice, garlic, salt and pepper in a jar with screw-top lid and shake to combine. PLACE the tuna, spinach, red onion, cannellini beans, artichoke hearts, and cherry tomatoes in a bowl. TOSS the dressing with the salad gently until combined. TOAST the bread slices on both sides under the broiler. SPREAD equal amounts of pesto on each slice then mound the salad evenly on top.