APPETIZERS
Champiñones al ajillo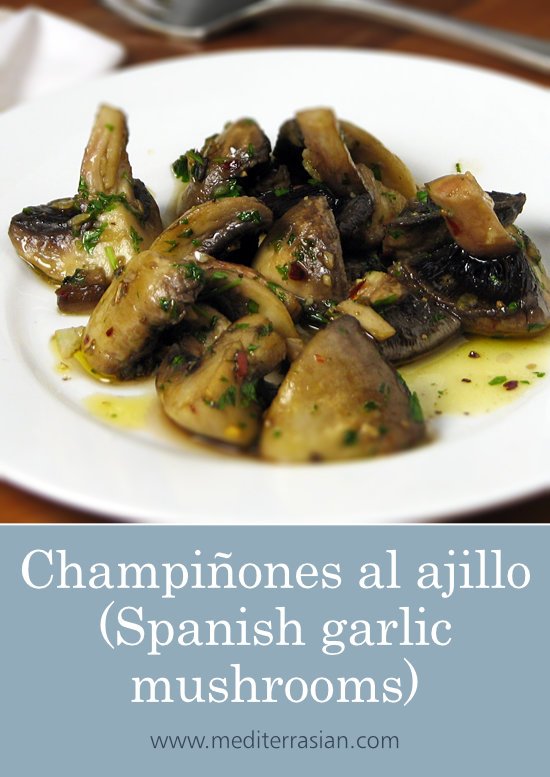 This is a classic Spanish tapas dish which we've made over and over again. It's prepared with simple ingredients but is full of flavor.
It's a perfect example of how the Spaniards have mastered the technique of making inexpensive foods like mushrooms taste really special. As they're sautéed, the mushrooms release their juices and soak up the flavors of olive oil, garlic, chili and lemon juice (the aroma is divine).
You can serve this dish hot or at room temperature.
Champiñones al ajillo
serves 2
A popular Spanish tapas dish, champiñones al ajillo is mushrooms sautéed with garlic, olive oil, lemon juice and typically seasoned with flat-leaf parsley, salt, freshly ground black pepper and chili. Enjoy this dish with a sherry or cold beer, and a little crusty bread to mop up the juices.
3 tablespoons extra virgin olive oil
8 large button mushrooms — peeled or wiped clean and quartered
2 cloves garlic — finely chopped
1 tablespoon lemon juice
¼ teaspoon freshly ground black pepper
½ teaspoon sea salt
¼ teaspoon dried chili flakes (optional)
1 teaspoon finely chopped fresh flat-leaf parsley
HEAT the olive oil in a large frying pan over a medium heat and cook the mushrooms for two minutes, stirring regularly. ADD the garlic, lemon juice, sea salt, pepper and chili flakes and cook for a further 4 minutes. REMOVE from the heat, stir through the parsley and serve on small plates.

Variation: For an Italian twist, toss these mushrooms through cooked pasta and sprinkle with a little Parmesan cheese.