SIDE DISHES
Spinach and feta stuffed mushrooms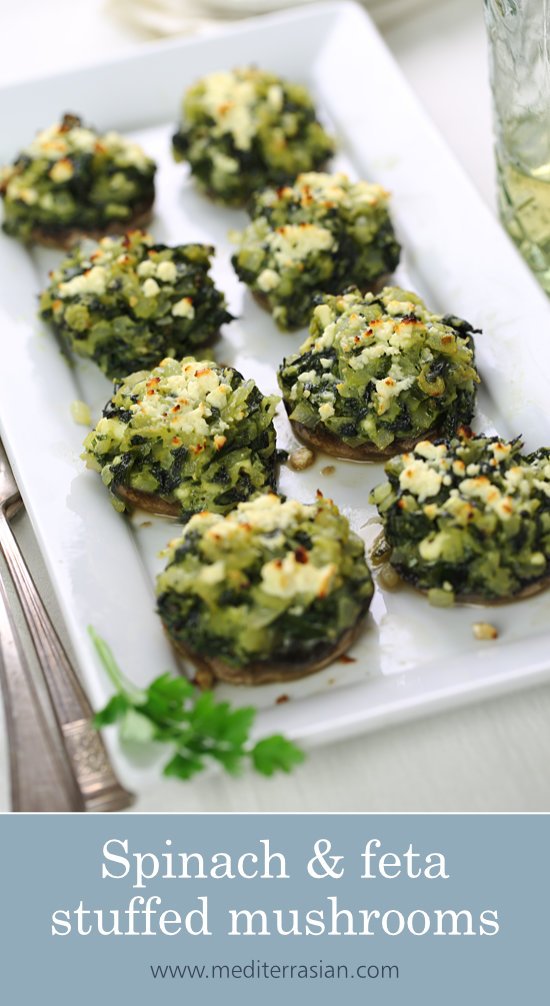 I recently returned from a wonderful family wedding in Sydney. Apart from sharing lots of fun and laughs together, we also shared plenty of good food. Two stand-out dishes for me were baked mushrooms stuffed with goat cheese and spinach, and wood-fired mushroom pizza with garlic, feta and rosemary. So in an effort to recreate those flavors back home, I combined my favorite ingredients from each dish and came up with this recipe for Spinach and feta stuffed mushrooms.
The filling mixture is similar to Spanakopita (Greek spinach pie), but instead of encasing it in phyllo pastry, I used it to stuff portobello mushrooms which are then baked until tender. The meaty taste of the mushrooms is complemented beautifully by the blend of garlicky spinach, onion, herbs and creamy feta cheese. These stuffed mushrooms are great served as an appetizer or light lunch with crusty bread and a crisp side salad.
You can vary the ingredients to change the flavor profile, such as replace the feta cheese with goat cheese or ricotta, use dried rosemary instead of oregano, or try fresh dill in place of parsley. You could also add other ingredients to the filling mixture including toasted pine nuts, dried chili flakes, chopped sun-dried tomatoes, olives, capers or anchovies.
Spinach and feta stuffed mushrooms
Serves 4
Portobello mushrooms stuffed with sautéed spinach, garlic, oregano and crumbled feta, and baked until tender.
2 tablespoons extra virgin olive oil
1 onion — finely chopped
1 garlic clove — finely chopped
1 bunch spinach (around 8 oz/230g) — stems removed, chopped
1 tablespoon finely chopped fresh flat-leaf parsley
½ teaspoon dried oregano
½ teaspoon salt
¼ teaspoon freshly ground black pepper
4½ oz (130g) feta cheese — crumbled
10 medium portobello mushrooms

PREHEAT the oven to 350°F/180°C. HEAT the olive oil in a frying pan over a medium heat. COOK the onion for 8 minutes, then add the garlic and spinach and cook for 5 minutes, stirring regularly. STIR in the parsley, oregano, salt and pepper and remove from the heat. STIR in 3½ oz (100g) of the crumbled feta and combine well. PEEL or wipe clean the mushrooms and remove their stalks. SPOON the mixture into the mushroom caps, pressing lightly to spread evenly, and sprinkle with the reserved feta on top. PLACE the stuffed mushrooms on a lightly greased or lined baking tray. BAKE for 15 minutes.