SIDE DISHES
Patatas bravas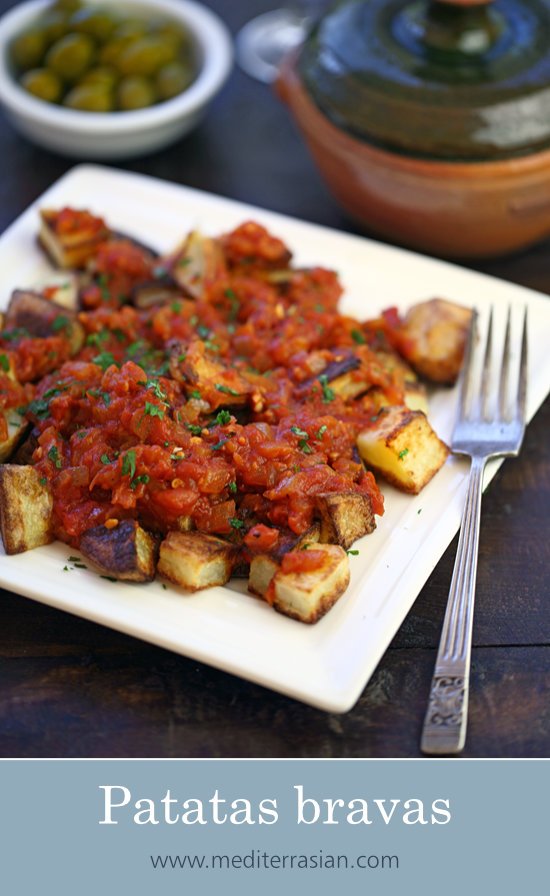 Patatas bravas is a Spanish dish of fried potato pieces served with a spicy garlicky tomato sauce. It's enjoyed as a tapa (appetizer) in tapas bars and homes throughout Spain — usually accompanied with a little wine, sherry or beer and lots of good conversation.
To save on calories, without diminishing the flavor, our version of patatas bravas is made with potatoes that are baked until crisp. Baking the potatoes also leaves us free to make the sauce, which is a simple and delicious mixture of tomatoes, red onion and garlic seasoned with chili, smoked paprika, and a dash of red wine vinegar.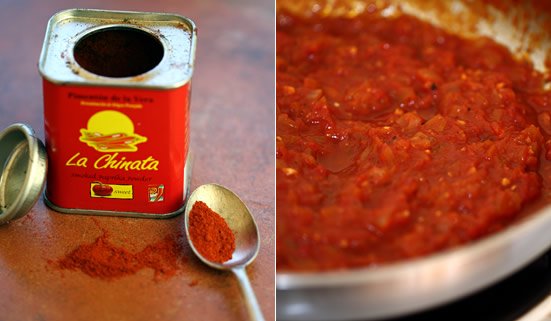 We use authentic Spanish smoked sweet paprika, because it adds a unique richness and smokiness to the sauce, but if you can't get your hands on the real stuff, regular paprika is a reasonable substitute.
To serve patatas bravas, you can either spoon the sauce over the top of the potatoes (like we do), or you can mix the potatoes into the sauce, or you can serve the sauce on the side to dip the potatoes into – it's up to you. In any case, sprinkle chopped fresh flat-leaf parsley over the top for an appetizing green garnish. And for a fun way to eat it, use toothpicks to skewer the potato pieces.
Although patatas bravas makes a great appetizer, it also works really well as a side dish. We often enjoy it served with grilled marinated tuna and a green salad. Also, as a variation, you can serve the sauce — thinned with a little stock, wine or water — as the base of a Spanish stew together with peppers, potatoes, olives, seafood, chicken or beans.
Patatas bravas
Serves 4
Patatas bravas is a Spanish dish of crispy potato pieces served with a rich and spicy tomato sauce. It's enjoyed as a tapa (appetizer) in tapas bars and homes throughout Spain, but it also makes a great side dish.
2 pounds (900g) potatoes (floury varieties such as Russet or Idaho) — peeled and cut into 1-inch pieces
4 tablespoons extra virgin olive oil
1 red onion — finely chopped
3 garlic cloves — finely chopped
½ teaspoon Spanish smoked paprika (or use 1 teaspoon regular paprika)
½ teaspoon dried chili flakes
14 oz (400g) canned chopped tomatoes
1 teaspoon red wine vinegar
1 teaspoon salt
½ teaspoon freshly ground black pepper
1 tablespoon finely chopped fresh flat-leaf parsley

PREHEAT the oven to 450°F/230°C. PLACE the potatoes in a baking dish and toss with 2 tablespoons of the olive oil. COOK in the oven for 35 minutes. WHILE the potatoes bake, heat 1 tablespoon of olive oil in a skillet over medium heat and cook the onion for 5 minutes, stirring occasionally. ADD the garlic, paprika and chili flakes and cook, stirring, for a further minute. ADD the tomatoes, vinegar, salt and pepper, bring to the boil, cover with a lid, reduce the heat to medium-low and simmer for 5 minutes. UNCOVER and simmer for a further 5 minutes. STIR in the remaining tablespoon of olive oil. DRAIN the potatoes on paper towels to remove any excess oil. PLACE the potatoes on a serving plate, spoon over the tomato sauce and sprinkle the parsley on top to serve.

Serving idea: Enjoy patatas bravas as a side dish served with grilled fish or chicken and a green salad.