SANDWICHES & PIZZA
Pesto pizza with shrimp, zucchini and sun-dried tomatoes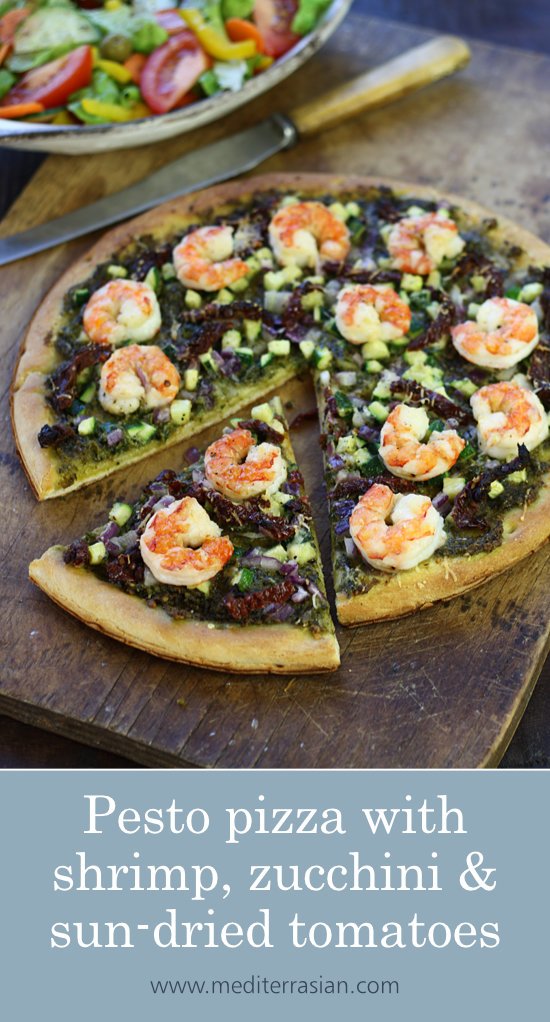 We enjoy pizza regularly at our place, but we rarely order in. And why would we when we can make a tastier, healthier version at home in less time than it takes to have a pizza delivered.
This is one of the most flavorsome pizzas we've had in a long time. It's also slightly unconventional because we use pesto sauce on the crust instead of tomato sauce. The beauty of this is that you get a mouthwatering medley of classic Italian flavors — basil, garlic, Parmesan cheese and pine nuts — all in one hit. And because there's already cheese in the pesto, you only need to sprinkle a little extra on top of the pizza before baking.
But just because we don't use tomato sauce in this pizza doesn't mean it's lacking in tomatoes (and their accompanying lycopene). We use sun-dried tomatoes, which not only add an intense tomatoey-ness but also a wonderful, slightly chewy texture. This pizza isn't lacking in the vegetable department either, so it's ideal if you're looking for a tasty way to slip more vegetables unobtrusively into your diet.
We use shrimp in this recipe, as we find it goes particularly well with pesto, but you could also use scallops, chicken or even white beans instead. And if you want to make this pizza extra healthful, do what we often do and use a large whole wheat pita bread (or two regular-sized pitas) as the pizza crust.
Pesto pizza with shrimp, zucchini and sun-dried tomatoes
Serves 2
A delightfully different pizza topped with pesto, succulent shrimp, sun-dried tomatoes, zucchini, and red onion. The beauty of this pizza is that you get a mouthwatering medley of Italian flavors all in one hit.
1 pre-baked pizza crust (about 12-inches in diameter and preferably thin crust). Alternatively use one large whole grain pita bread as the crust.
3 tablespoons pesto — ready-made or homemade pesto
½ zucchini — thinly sliced or finely diced
¼ red onion — finely diced
12 large uncooked shrimp — peeled and deveined
3 tablespoons thinly sliced sun-dried tomatoes
¼ cup finely grated Parmesan cheese
PREHEAT the oven to 450°F/230°C. SPREAD the pesto in a thin layer evenly over the pizza crust. ARRANGE the zucchini, red onion, shrimp and sun-dried tomatoes evenly over the pizza crust. SPRINKLE the Parmesan cheese on top. PLACE the pizza on a baking tray and cook for 10 minutes. CUT into 6 to 8 slices to serve.

Variations: Use scallops, chicken or cannellini beans instead of shrimp.