PASTA DISHES
Pumpkin, spinach, pine nut and Parmesan pasta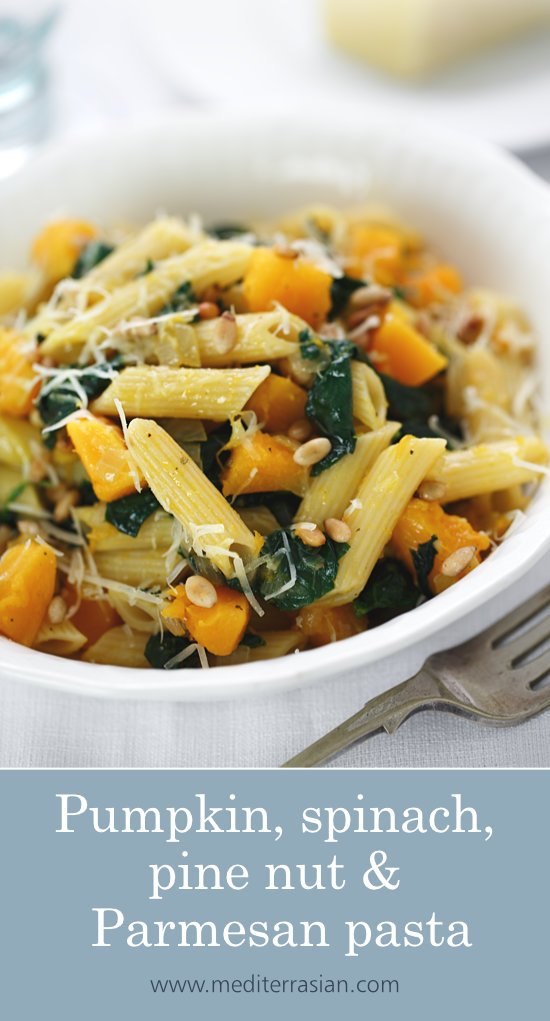 Italians use pumpkins and winter squash in all sorts of tasty dishes including soups, stews, salads, frittatas, breads, pizzas, risotto and gnocchi. They also pair pumpkin with different kinds of pasta — as a filling for ravioli or cannelloni, layered in lasagna, or tossed with pasta, either pureed into a creamy sauce or cut into small cubes.
In this uncomplicated pasta recipe we combine pumpkin with spinach that we sauté in olive oil with onion, garlic and rosemary. And we add toasted pine nuts and grated Parmesan cheese to add an extra depth of flavor to the dish.

To save time we simply boil the pumpkin in the same pot with the pasta, but if you want to intensify the natural sweetness of the pumpkin you can roast the cubed pumpkin until golden brown and caramelized. Or use leftover roast pumpkin if you have it.
You could also add another level of flavor, and some protein, by cooking chopped anchovies or bacon with the spinach and onion – their salty flavor complements pumpkin and spinach beautifully.
Pumpkin, spinach, pine nut and Parmesan pasta
serves 2
Penne pasta tossed with cubed pumpkin, sautéed spinach and toasted pine nuts, then sprinkled with freshly grated Parmesan cheese.
6 oz (170g) penne pasta
12 oz (340g) pumpkin or winter squash — peeled, deseeded and cut into small cubes
3 tablespoons pine nuts
3 tablespoons extra virgin olive oil
1 onion — finely chopped
3 cloves garlic — finely chopped
½ teaspoon dried rosemary
2 cups firmly-packed fresh spinach — roughly chopped
1 teaspoon salt
½ teaspoon freshly ground black pepper
Grated Parmesan cheese, to serve

COOK the pasta and pumpkin in a large pot of lightly salted boiling water for 8 minutes. TOAST the pine nuts in a large pan over medium heat until lightly browned, then remove from the pan and set aside. HEAT 2 tablespoons of olive oil in the same pan over medium heat and cook the onion for 6 minutes. ADD the garlic and rosemary and cook for 1 minute. ADD the spinach and cook for 4 minutes, stirring regularly. STIR in the toasted pine nuts, salt, pepper, and reserved tablespoon of olive oil. DRAIN the pasta and pumpkin, reserving 3 tablespoons of the pasta cooking water in the pot. TOSS the pasta and pumpkin with the spinach, onion and pine nut mix and serve topped with finely Parmesan cheese.

Variations: Replace the Parmesan cheese with crumbled feta, and use walnuts instead of pine nuts.