RICE & GRAIN DISHES
Vietnamese rice paper rolls with creamy peanut sauce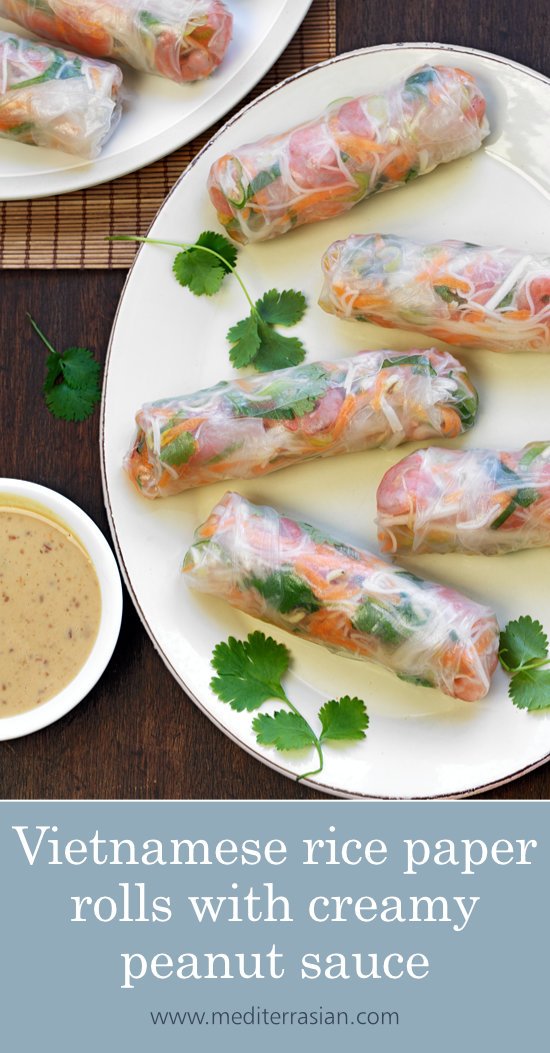 These Vietnamese rice paper rolls are packed with flavor and filled with baby shrimp, a selection of crisp seasoned vegetables, and rice vermicelli noodles, all coated with a simple rice vinegar dressing (similar to vinegared sushi rice). Thin round sheets of rice paper — softened in warm water — are used as edible wrappers to package the filling into rolls. The rice paper turns translucent so you can catch a glimpse of some pink shrimp, green cilantro and fresh veggies inside the see-through wrapping.
The delicious nutty, creamy and slightly spicy dipping sauce complements the shrimp and crispy fresh vegetables beautifully and makes the whole dish more substantial.
These rice paper rolls are very adaptable to whatever ingredients you have on hand. We always keep rice paper sheets in the pantry, so we just use whatever fresh veggies are in the fridge, together with some kind of protein. If we don't have bean sprouts, we use shredded cabbage or iceberg lettuce. No carrot, then grated radish works really well. And thin strips of cucumber, red pepper, and snow peas are good additions. Same goes with herbs — use mint or basil leaves, roughly torn, instead of (or combined with) cilantro. Leftover shredded rotisserie chicken makes a fantastic alternative to shrimp, and is wonderful paired with the peanut dipping sauce. But you can also use crab sticks (surimi) or tofu instead. And you could add some chopped roasted peanuts to the filling mixture and serve with a lighter, but no less flavorful, dipping sauce like Nuoc Cham or store-bought sweet chili sauce. These rolls can also be turned into crispy spring rolls by pan-frying or deep frying them.
You can make both the rolls and peanut dipping sauce in advance, and keep them covered in the fridge (place either a damp dishcloth or moistened paper towel over the rolls to stop them from drying out.) We often make a double batch of rice paper rolls intentionally to have leftovers for lunch the next day. Being able to make them ahead also means they're excellent for parties and picnics, and they make a refreshing appetizer for an Asian inspired dinner party. If you want to get your guests involved, rather than pre-rolling them, simply serve various filling ingredients in bowls, plus assorted dipping sauces, and a shallow dish of warm water. That way, everyone can soak their own rice paper, then fill and roll as they go, allowing people to create their own combinations.
Vietnamese rice paper rolls with creamy peanut sauce
Serves 4
Baby shrimp and a selection of crisp seasoned vegetables encased in delicate rice paper and served with a lightly-spiced, creamy peanut dipping sauce.
1 oz (30g) dried rice vermicelli noodles
1 tablespoon plus 1 teaspoon rice vinegar
1 tablespoon water
2 teaspoons brown sugar
½ teaspoon salt
7 oz (200g) baby shrimp
1 cup bean sprouts
1 carrot — peeled and grated
2 scallions — thinly sliced
A handful of cilantro leaves (fresh coriander)
8 rice paper sheets
3 tablespoons natural unsalted peanut butter
1 tablespoon fish sauce
1 tablespoon lemon juice
1 clove garlic — minced
½ teaspoon dried chili flakes

PLACE the noodles in a large bowl, pour boiling water over them to cover, and leave to soak for 5 minutes. MIX together the 1 tablespoon of rice vinegar, water, 1 teaspoon of the sugar and salt in a small bowl until the sugar dissolves. RINSE the noodles under cold water, drain well, then cut into 3-inch lengths. MIX together the noodles, shrimp, bean sprouts, carrot, scallions, cilantro and the dressing in a bowl until well combined. SOAK a sheet of rice paper in a large shallow dish of warm water for about 15-20 seconds until just soft. PLACE the sheet of rice paper on top of a clean damp dishcloth, then arrange ½ cup of the filling towards the lower edge of the rice paper. NEATLY fold the bottom edge of the rice paper over the filling. FOLD in the side edges of the rice paper. ROLL up the rice paper roll to form a neatly packed cylinder, like a fat cigar. REPEAT with the remaining rice paper sheets and filling. TO make the dipping sauce, mix the peanut butter with 3 tablespoons of boiling water in a small bowl until the peanut butter softens. ADD the fish sauce, lemon juice, garlic, chili flakes, 1 teaspoon of rice vinegar and 1 teaspoon of brown sugar, then mix until well combined. ARRANGE the rice paper rolls on a plate with the dipping sauce to serve.

Variations: Use shredded cold cooked chicken instead of baby shrimp. Use large cooked peeled shrimp instead of baby shrimp. You can also turn these fresh rolls into crispy spring rolls by pan-frying them.