RICE & GRAIN DISHES
Smoked salmon risotto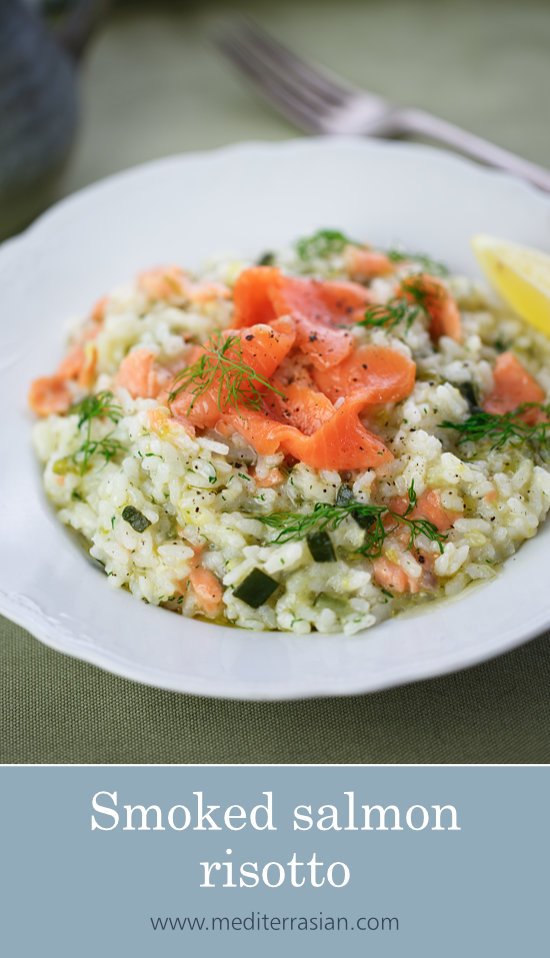 This is one of the most delicious risottos we've ever tasted — and it's so simple to make because it requires absolutely no stirring!
This dish also naturally combines all the components that make up heart-healthy Mediterranean-style eating. Most of the fat in the recipe comes from olive oil, which is high in monounsaturated fats, and from smoked salmon, which is a great natural source of omega-3s. The salmon also adds a delightful flavor and buttery texture. And because it's ready to eat, you just stir it in at the end of cooking to warm through.
With the richness of the smoked salmon, only a small amount of Parmesan cheese is needed, and the lemon zest and juice and fresh dill really brighten up the flavors.
We've found that the most eye-catching way to serve this risotto is to stir in two thirds of the salmon and drape the rest over the top, then scatter over a few extra fronds of dill, as well as a little extra freshly ground black pepper.
Smoked salmon risotto
serves 2
A simple and mouthwatering risotto with succulent slices of smoked salmon, zucchini, lemon and fresh dill.
3 tablespoons extra virgin olive oil
1 zucchini — diced
2 scallions — finely chopped
1 clove garlic — minced
½ teaspoon finely chopped lemon zest
1 cup arborio rice
½ cup white wine
2 cups vegetable or chicken stock
½ teaspoon salt
¼ teaspoon freshly ground black pepper
1 tablespoon finely chopped fresh dill
3½ oz (100g) sliced smoked salmon — cut into pieces
1 tablespoon lemon juice
⅓ cup finely grated Parmesan cheese
HEAT 2 tablespoons of olive oil over a medium heat. COOK the zucchini for 5 minutes, stirring occasionally. ADD the scallions, garlic and lemon zest and cook 1 minute. ADD the rice and cook 1 minute, stirring to coat the grains with oil. ADD the wine, stock, salt and pepper and bring to the boil. COVER with a lid, reduce the heat to low, and cook for 20 minutes. ADD the dill, smoked salmon, lemon juice, Parmesan cheese and remaining tablespoon of olive oil and stir gently until combined and heated through. SERVE garnished with extra dill fronds on top.