CURRIES & STEWS
Thai green fish curry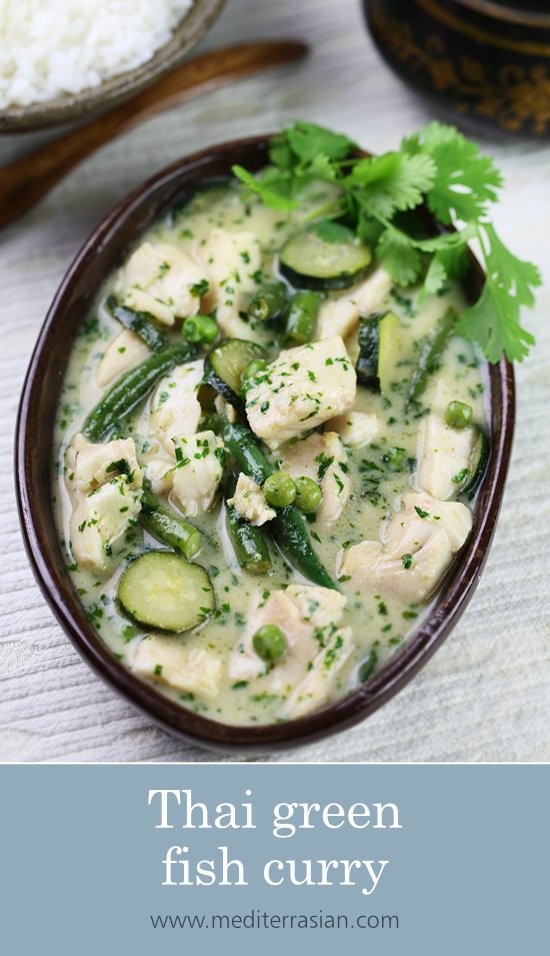 When we make a Thai green curry (which is often!) we figure why not go all-out on the green — so we usually only use green vegetables. In this case we've used zucchini, green beans and peas. But sometimes we might use green pepper, asparagus, snow peas or broccoli (cut into small florets). Herb-wise we either use cilantro (fresh coriander) or basil, which adds another flourish of green.
Fish is just one protein option for this curry. It tastes equally good with shrimp, scallops, mussels, squid, chicken or tofu (or a combination). So, as you see, there are many ways to vary this delicious curry. But one thing we don't ever change about this recipe is what we serve it with — always steaming hot fragrant Jasmine rice.
Thai green fish curry
serves 2
Pieces of fish cooked to melting tenderness with a selection of green vegetables in a spicy coconut sauce accented with fresh lime and aromatic cilantro.
1 tablespoon peanut or canola oil
1 tablespoon Thai green curry paste
2 garlic cloves — finely chopped
1 teaspoon finely grated lime zest
1½ cups coconut milk
½ cup water
3 tablespoons fish sauce
1 tablespoon brown sugar
1 teaspoon salt
12 green beans — halved
1 zucchini — thinly sliced into rounds
12 oz (340g) uncooked firm white fish fillets (such as cod or snapper) — cut into bite-sized pieces
¼ cup frozen green peas — defrosted
2 tablespoons chopped cilantro (fresh coriander)
1 tablespoon lime juice
HEAT the oil in a large saucepan over a medium heat and cook the curry paste, garlic and lime zest for a minute, stirring regularly. ADD the coconut milk, water, fish sauce, sugar and salt, bring to the boil, reduce the heat to medium and simmer for 5 minutes, uncovered. ADD the green beans and zucchini, return to a simmer and cook, uncovered, for a further 5 minutes. ADD the fish and peas, bring back to a simmer and cook, uncovered, for 6 minutes more, until the fish is just cooked. STIR in the cilantro and lime juice. SERVE with rice (jasmine is ideal).

Variations: Instead of fish, you can use chicken or any selection of seafood (shrimp, scallops, mussels) or cubed firm tofu. Use lemon zest and juice in place of lime. Replace the cilantro with basil.