PASTA DISHES
White bean, sausage and mushroom pasta with tomato-ricotta sauce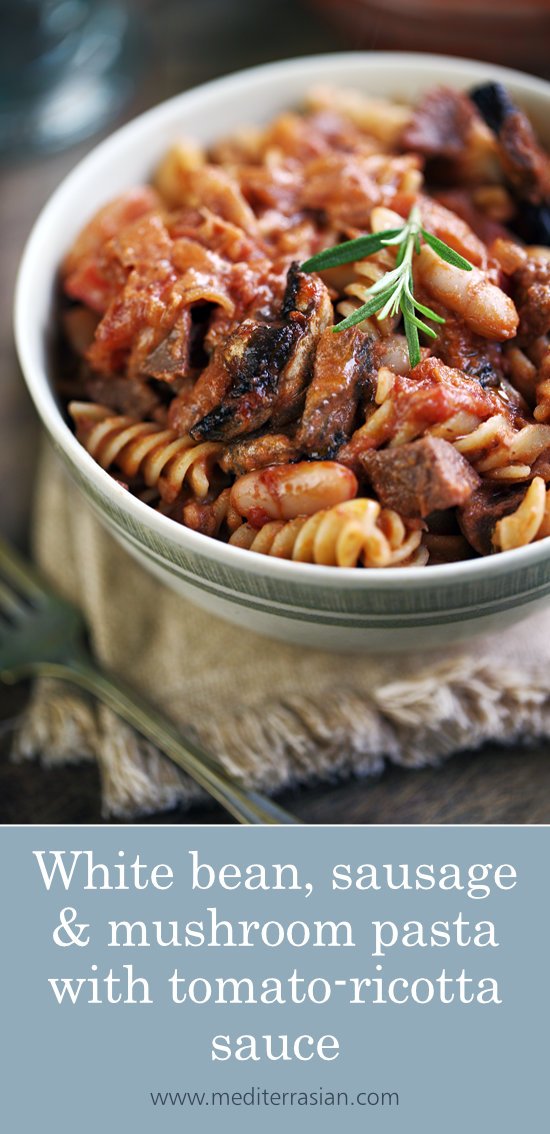 Traditionally, red meat was eaten sparingly throughout the Mediterranean region, apart from on special feast days. More often than not it was used in small amounts as a flavor and texture enhancer.
This recipe is a perfect example of how a small amount of meat can go a long way. But even though this recipe (which serves two) only contains one sausage, don't worry about not getting enough protein. Beans are a great source of protein — and unlike meat, which contains no fiber, beans contain plenty. Dried pasta, which is made from a special hard type of wheat called durum wheat is also one of the most protein-rich of all grains, and a cup of cooked pasta contains more than 8 grams of protein. And mushrooms contain more than twice as much protein as most vegetables.
So even though there's only a small amount of meat in this dish, you still get plenty of protein (as well as lots of other healthful nutrients).
Fusilli pasta is perfect for chunky sauces like this, which get conveniently trapped in the crevices. Or tubular pasta like penne or rigatoni also work well. This would also make a really satisfying vegetarian dish, with the sausage replaced by extra beans and mushrooms.
White bean, sausage and mushroom pasta with tomato-ricotta sauce
serves 2
A rustic pasta dish with cannellini beans, diced sausage, and mushrooms combined with a smooth and velvety tomato-ricotta sauce.
2 tablespoons extra virgin olive oil
1 onion — finely chopped
1 cooked pork sausage — diced
2 cloves garlic — finely chopped
½ teaspoon dried rosemary
¼ cup red wine
14 oz (400g) canned chopped tomatoes
1 tablespoon tomato paste
5 button mushrooms — sliced
½ cup canned cannellini beans — rinsed and drained
1 teaspoon salt
½ teaspoon freshly ground black pepper
7 oz (200g) pasta (fusilli or penne work well)
⅓ cup ricotta cheese
¼ cup grated Parmesan cheese

HEAT the oil in a large saucepan over medium heat. ADD the onion and cook 6 minutes. ADD the sausage, garlic and rosemary and cook 2 minutes. ADD the wine, tomatoes, tomato paste, mushrooms, white beans, salt and pepper, bring to the boil, then reduce the heat to medium-low and simmer, uncovered, 10 minutes. COOK the pasta in a large pot of lightly salted boiling according to package directions. ADD the ricotta and Parmesan to the tomato sauce and stir to combine and warm through. DRAIN the pasta and toss with the sauce.