FOOD & COOKING
Simple and delicious ways to use mint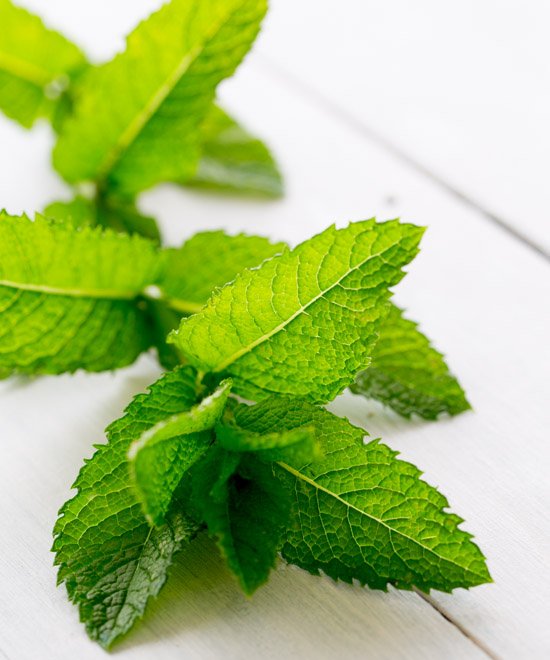 Which herb has the greatest variety of uses? Some would say parsley, which is indeed ubiquitous in kitchens around the world. For others it might be a toss up between basil or cilantro (fresh coriander). But even though I couldn't imagine cooking without fresh parsley, cilantro or basil, I'd still put my money on mint in the versatility stakes. Mint is surely among the hardest-working herbs on the market, albeit one of the most underrated.
To celebrate this truly versatile herb, here are some simple and delicious ideas for using fresh mint in a variety of Mediterranean and Asian dishes:
Potatoes have a particular affinity with mint, and Salsa Verde Potato Salad is a firm favorite of ours. Simply boil 2 lbs (900g) of potatoes (cut into chunks or use whole baby potatoes) until tender. To make the salsa verde (a piquant Italian green sauce), put 2 chopped anchovies, 2 tablespoons chopped parsley, 1 tablespoon chopped mint, 1 teaspoon capers, 1 clove chopped garlic, 1 teaspoon lemon juice, ½ teaspoon lemon zest, and ¼ teaspoon salt in a food processor. Pulse until roughly blended, drizzling in ¼ cup extra virgin olive oil as you go. Toss gently with the cooked potatoes until well combined. Serve with grilled fish or chicken and steamed green beans or asparagus on the side.
Fresh mint elevates even the most humble vegetables to gourmet status. A simple and tasty combination is Peas and Fava Beans with Feta and Mint. Cook equal amounts of green peas and fava beans (frozen, or fresh if you can get them) and toss with some extra virgin olive oil, chopped mint, crumbled feta cheese and freshly ground black pepper. Also check out our recipe for Carrots with Coriander, Cumin and Mint for a deliciously different vegetable side dish.
Mint adds a zesty freshness to all sorts of salads. To make a quick version of Tabbouleh, a traditional Middle Eastern salad, put plenty of fresh parsley together with a small amount of fresh mint in a food processor and pulse in short bursts until coarsely chopped (being careful not to over-blend to a mush). Place the herbs in a salad bowl, stir in some cooked bulgur, diced tomato and sliced scallion, and dress with extra-virgin olive oil and lemon juice.
For an easy yet exotic Asian Chicken Noodle Salad which delivers a fusion of tastes and textures, soak 4 oz (115g) dried bean thread or rice vermicelli noodles in boiling water for 5 minutes, then rinse under cold water and drain. To make the dressing, mix together 1 clove crushed garlic, 2 tablespoons each of lime or lemon juice and sweet chili sauce with 1 tablespoon fish sauce in a small bowl until well combined. Place the noodles in a salad bowl with 1 cup of shredded skinless rotisserie chicken breast, 1 carrot (cut into thin strips), ½ red pepper, 2 scallions, 1 cup bean sprouts, ½ cup diced cucumber and 2 tablespoons each of chopped fresh mint and roasted peanuts. Pour the dressing over the salad and toss gently to combine. (You can also replace the chicken with cooked shrimp or squid).
There are plenty of Italian dishes which feature mint, including Spaghetti with Shrimp, Zucchini and Mint. Sauté 1 diced zucchini in 2 tablespoons extra virgin olive oil over medium-high heat for 5 minutes until golden brown. Add 2 cloves finely chopped garlic, ½ teaspoon dried chili flakes and 2 chopped anchovy fillets, and cook for 2 minutes. Add 2 tablespoons of white wine and 16 uncooked, peeled shrimp and cook for about 4 minutes, until pink and tender. Meanwhile, cook 7 oz (200g) dried spaghetti according to package directions, drain, then toss with the shrimp-zucchini mixture, together with 1 tablespoon each of finely chopped fresh mint and parsley. Season with ¾ teaspoon salt, ¼ teaspoon freshly ground black pepper and stir in an extra tablespoon of olive oil at the end. (The same ingredients also make a fantastic risotto).
Mint adds an unmistakable flavor and aroma to Vietnamese dishes, used alone or in the company of cilantro or basil. It adds a wonderful fresh flavor to Vietnamese rice paper rolls, and we also use mint to pep up Asian marinades. To make Grilled Scallop Skewers with Vietnamese Flavors dissolve 1 tablespoon sugar in 2 tablespoons water and mix with 1 clove minced garlic, 1 small finely chopped red chili, 2 tablespoons each of lemon juice, fish sauce and rice vinegar, plus 1 teaspoon sesame oil and 1 tablespoon finely chopped fresh mint. Marinate uncooked scallops in the mixture, then thread them onto skewers and sear briefly on each side on a hot barbecue or char-grill until tender. (Use shrimp or cubed chicken instead of scallops).
We love the pungency of fresh mint in aromatic Indian curries, dhals and rice dishes, which we add at the end of cooking to retain its intensity. We also use it raw in simple vegetable side dishes to serve alongside curries. For an easy Tomato, Onion, Ginger and Mint Relish mix together 2 diced tomatoes, ¼ diced red onion, 1 tablespoon lemon juice, 1 teaspoon finely grated fresh ginger, ½ teaspoon salt, ¼ teaspoon caster sugar and 2 teaspoons finely chopped fresh mint until well combined. For a sweet ending to an Indian meal, make an Indian Pineapple and Mint Lassi by blending 2 cups of chopped pineapple (fresh or canned in natural juice) with 1 tablespoon of chopped fresh mint, 1½ cups cold water, ¾ cup plain Greek-style yogurt, 1 tablespoon sugar and 6 ice cubes until smooth.
Fresh mint lends itself to Moroccan cuisine, not only in traditional mint tea, but also in salads like Orange, Date and Mint Salad. Peel and cut 3 navel oranges into segments, place on a serving dish (with any juices), and scatter over 4 thinly sliced pitted dates, 2 tablespoons lightly toasted slivered almonds, ½ tablespoon shredded mint and a pinch of ground cinnamon. Another is Moroccan Lentil Salad which is made simply by tossing 1 can of brown lentils, rinsed and drained, with 2 thinly sliced scallions, 2 tablespoons olive oil, 1½ tablespoons lemon juice, 1 teaspoon ground cumin, 1 tablespoon finely chopped mint, and salt and pepper to season.
For a simple meze dish, grill some sliced halloumi cheese and serve with nothing more than a squeeze of lemon juice and a little chopped fresh mint. And fresh mint can also be used in Tzatziki (a traditional Greek cucumber and yogurt and sauce), either as a replacement for dill or combined with it.