RICE & GRAIN DISHES
Turkish bulgur pilaf with chickpeas and tomatoes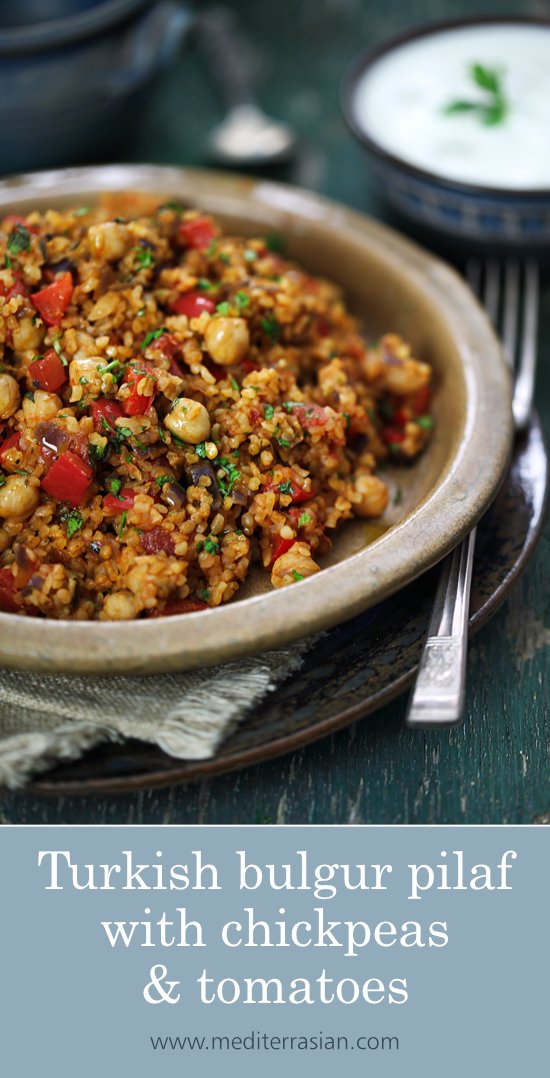 We bought a big bag of bulgur a while ago — most of it I cooked and froze in portions to serve with stews and use in salads like tabbouleh, but I wanted to finish the leftover bulgur in the packet. So we decided to take our taste buds to Turkey — and this tasty Turkish pilaf recipe is the result. It only takes around 30 minutes to have this on the table, and it's made in just one pot. And with the goodness of the whole grain bulgur, tomatoes, red peppers and chickpeas, it's super healthy too!
Bulgur is a staple in Middle Eastern cuisine. It's got a slightly nutty flavor, chewy texture and is higher in protein than most grains. Bulgur is made by parboiling whole wheat until soft, drying it, and then grinding it into various grades from fine to extra coarse. We've found that coarse bulgur works best with this pilaf. As it cooks it soaks up the seasoned tomatoes and stock developing a uniquely delicious taste and tender texture.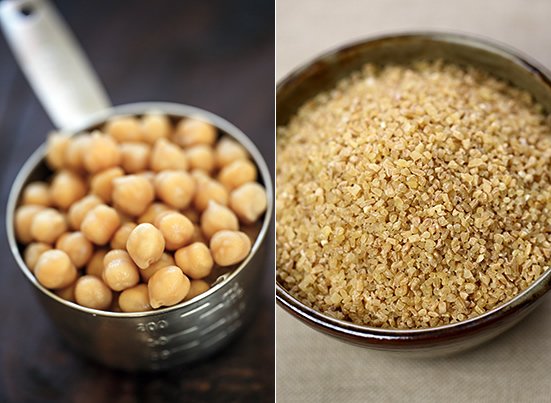 You can vary this pilaf in lots of different ways. We prefer to use canned tomatoes for convenience, but you can also make this recipe with chopped fresh tomatoes when they're in season. Same goes for chickpeas — canned are perfectly fine, but the quality is not quite as good as dried chickpeas that you cook yourself. Instead of fresh parsley and mint, you can use cilantro (fresh coriander). And green pepper makes a good substitute for red pepper.
You can also serve this bulgur pilaf in various ways. Traditionally it's eaten with thick plain yogurt, but we've found it's also delicious served with crumbled feta cheese on top — it's up to you. Although it's a hearty and wholesome meal on its own, it also makes a yummy side dish too, served with chicken, fish or seafood. We like to eat it hot, especially on cold days, but we've also thoroughly enjoyed leftovers served cold as a salad.
Turkish bulgur pilaf with chickpeas and tomatoes
serves 2
A simple, tasty and nutritious Turkish pilaf made with bulgur, tomatoes, red peppers and chickpeas, traditionally served with thick plain yogurt (Greek yogurt is ideal).
2 tablespoons extra virgin olive oil
1 red onion — finely chopped
1 red pepper — diced
2 cloves garlic — minced
1 teaspoon ground cumin
¼ teaspoon ground cinnamon
¼ teaspoon dried chili flakes
1 tablespoon tomato paste
1 cup bulgur (coarse bulgur is ideal)
14 oz (400g) canned chopped tomatoes
¾ cup vegetable or chicken stock
1 cup canned chickpeas — drained and rinsed
1 teaspoon salt
¼ teaspoon ground black pepper
1 tablespoon finely chopped fresh parsley
1 tablespoon finely chopped fresh mint
HEAT the oil in a saucepan over medium heat. ADD the onion and red pepper and cook for 10 minutes, stirring occasionally. ADD the garlic, cumin, cinnamon, chili flakes and tomato paste and cook for 1 minute, then add the bulgur and stir to coat for 1 minute. ADD the tomatoes, stock, chickpeas, salt and pepper, increase the heat to high and bring to a boil. COVER with a lid, reduce the heat to low, and cook for 15 minutes. REMOVE the pan from the heat and let stand, with the lid on, for 5 minutes. STIR in the parsley and mint, then serve the pilaf with a dollop of yogurt (optional).