CURRIES & STEWS
Lentil, pea and potato curry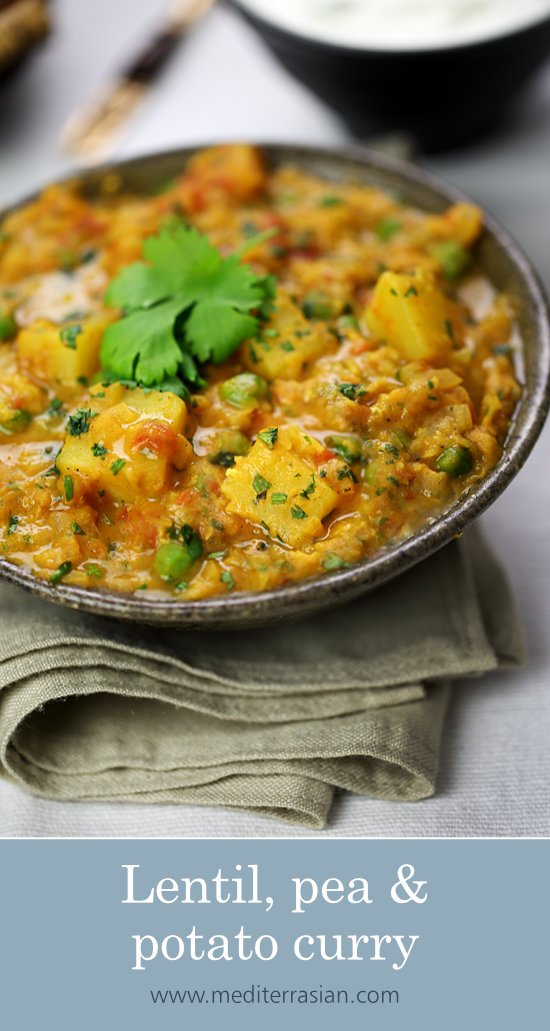 If you're trying to include more vegetables in your diet while cutting back on meat, you're going to love this Indian lentil, pea and potato curry.
Not only is it packed with vegetables and full of flavor, it also contains plenty of protein from the lentils and peas. And unlike red meat, which can raise your LDL (bad) cholesterol levels, lentils and peas contain good fats and are also a rich source of soluble fiber, which helps lower LDL cholesterol levels.

Lentil, pea and potato curry
serves 4
Lentils, peas and bite-size cubes of potato in a richly-spiced tomato and coconut milk gravy.
2 tablespoons canola oil
2 onions — finely chopped
2 cloves garlic — minced (crushed)
2 teaspoons grated fresh ginger
2 teaspoons ground coriander
1 teaspoon ground cumin
1 teaspoon ground turmeric
½ teaspoon ground cinnamon
½ teaspoon chili powder
1 large potato — peeled and cut into bite-size cubes
½ cup red lentils
14 oz (400g) canned tomatoes — chopped
1 cup coconut milk
1 cup vegetable or chicken stock
1 teaspoon garam masala
1 teaspoon salt
1 teaspoon brown sugar
1 cup basmati rice
1 cup green peas
2 tablespoons chopped cilantro (fresh coriander)
1 tablespoon lemon juice
HEAT the oil in a large saucepan over a medium heat and cook the onions for 10 minutes, stirring occasionally. ADD the garlic, ginger, ground coriander, cumin, turmeric, cinnamon and chili and cook, stirring, for 1 minute. ADD the potato and lentils and stir to coat with the spice mixture. ADD the tomatoes, coconut milk, stock, garam masala, salt and sugar, bring to the boil and cover with a lid. REDUCE the heat to medium and simmer, covered, for 20 minutes, stirring occasionally. WHILE the curry simmers, cook the rice. ADD the peas to the curry and simmer, uncovered, for 5 minutes. REMOVE from the heat and stir in the cilantro and lemon juice. SERVE on a bed of rice.

Variations: Replace the cilantro with fresh mint. Serve with naan bread instead of rice.