PASTA DISHES
Pasta puttanesca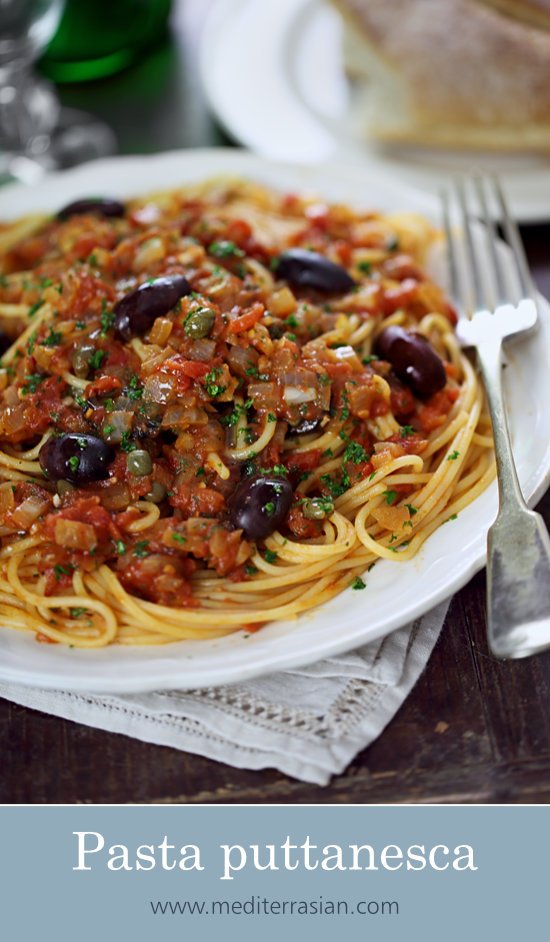 No wonder puttanesca is such a popular pasta dish. It's saucy, spicy, tasty and easy. Anchovies are a key ingredient in the tomato sauce. They lend a deep rich salty flavor that's so satisfying and delicious. But if you're not a fish fan, don't be put off by the anchovies in this recipe. When they're sautéed with onion and garlic and cooked as part of the sauce, the anchovy fillets melt completely without leaving any tell-tale fishiness, and their pungency turns into an umami-rich flavor.
Because we almost always have the ingredients on hand, this is one of the pasta dishes that we make most often. And because it's so simple to toss together and super tasty, it goes down a treat whether it's a busy weekday night or lazy weekend.
Pasta puttanesca
serves 2
A robustly-flavored pasta dish made from a combination of classic Italian ingredients. We often add some good-quality canned tuna to the sauce for extra protein.
3 tablespoons extra virgin olive oil
1 onion — finely chopped
2 cloves garlic — finely chopped
4 anchovy fillets — chopped
1 small red chili — deseeded and finely chopped
2 teaspoons capers — rinsed and drained
8 pitted black olives — quartered
14 oz (400g) canned tomatoes — chopped
½ teaspoon salt
¼ teaspoon freshly ground black pepper
1 tablespoon finely chopped fresh flat-leaf parsley
7 oz (200g) spaghetti
HEAT 2 tablespoons of the oil in a frying pan over a medium heat and cook the onion for 6 minutes, stirring occasionally. ADD the garlic and anchovies and cook for a minute, stirring to break up the anchovies. ADD the chili, capers, olives, tomatoes, salt and pepper, and bring to the boil. REDUCE the heat to medium-low and simmer, uncovered, for 10 minutes, stirring occasionally. WHILE the sauce is simmering, cook the pasta. DRAIN the cooked pasta into a colander and put the sauce in the bottom of the pot. TOP with the hot pasta, parsley and reserved tablespoon of olive oil, and toss together gently to combine.

Variation: To make this meal more protein-packed you can add a 6 oz (170g) can of tuna (drained and flaked) to the sauce at the end of cooking to heat through.