CURRIES & STEWS
Sicilian fish stew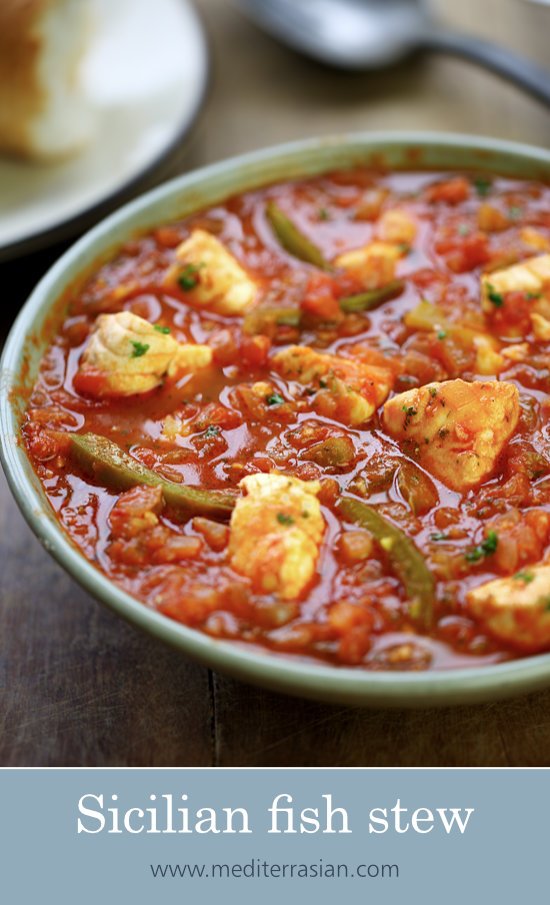 We watched a travel program about Sicily the other night, and one scene showed a boat of fishermen cooking a simple fish stew for themselves onboard from some of their day's catch. The image inspired us to make something similar and, in around half an hour, we were enjoying this tasty Sicilian-style fish stew.
For so few ingredients it's surprisingly flavorful — a testament to Sicilian simplicity. The dish is built around a basic but beautiful stew made with onion, celery, green pepper, wine, stock and tomatoes. The fishermen in the show grated fresh tomatoes straight into the pan (a great technique that separates the tomato pulp from the skin, which we use when we make paella). But, in the absence of good-quality ripe fresh tomatoes, canned tomatoes (preferably Italian) are fine.
The addition of other classic Sicilian ingredients — namely extra virgin olive oil, garlic, lemon zest, and rosemary — give the stew a wonderful depth of flavor. And, along with fresh fish, that's it — rustic peasant food at its best. You could make a fancier version by using more expensive fish like tuna or swordfish, or turn it into a seafood stew by adding some shrimp, scallops, or mussels.
We served it with some crusty bread to mop up the juices, but you could also serve it spooned over rice or couscous.
Sicilian fish stew
serves 2
A flavorful Sicilian-style tomato and herb stew with succulent morsels of fish.
3 tablespoons extra virgin olive oil
1 onion — finely chopped
1 celery stick — finely chopped
1 green pepper — cut into thin strips
3 cloves garlic — finely chopped
1 teaspoon finely chopped lemon zest
½ teaspoon dried rosemary
14 oz (400g) canned tomatoes — chopped
½ cup white wine
1 cup vegetable, chicken or fish stock
1 tablespoon tomato paste
1 teaspoon salt
¼ teaspoon freshly ground black pepper
12 oz (340g) firm white fish (such as cod or snapper) — cut into bite-size pieces
1 tablespoon finely chopped fresh parsley
HEAT 2 tablespoons of the oil in a pan over medium heat. ADD the onion and celery and cook for 5 minutes, stirring occasionally. ADD the green pepper and cook for 5 minutes, stirring occasionally. ADD the garlic, lemon zest and rosemary and cook for 1 minute. ADD the tomatoes, wine, stock, tomato paste, salt and pepper, bring to a boil, reduce the heat to medium and simmer, uncovered, for 15 minutes. ADD the fish, cover with a lid, and simmer gently for 5 minutes. STIR in the parsley and the remaining tablespoon of olive oil. SERVE with crusty bread, rice or couscous.