CURRIES & STEWS
Simple salmon curry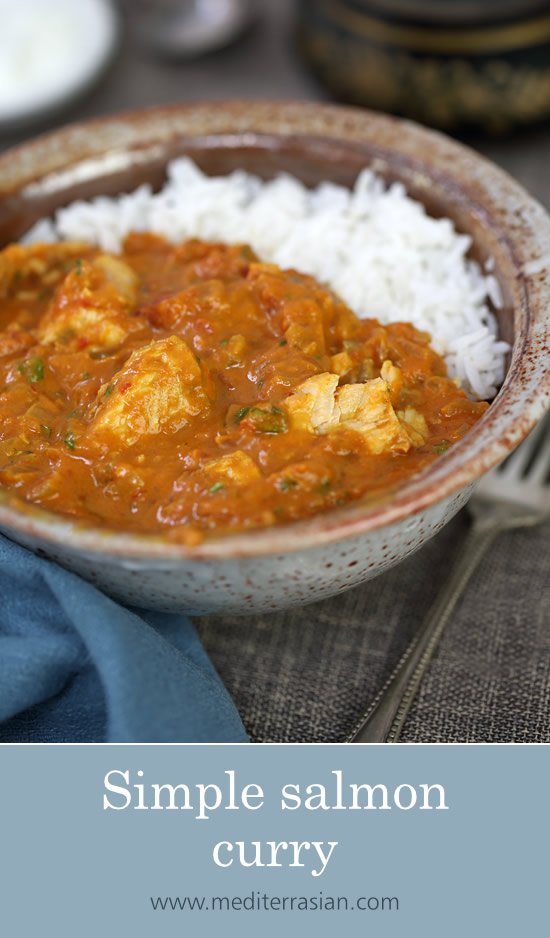 If you've got a can of salmon and a can of chopped tomatoes in your pantry, you're well on the way to making this fragrant and comforting curry.
We've been making Indian curries for years, but for some reason we never thought to use canned salmon in any of our curries. Now that we have, it's been a real revelation! Not only is it super convenient, but the taste and texture of canned salmon is perfectly suited to traditional Indian spices. Plus, salmon is packed with heart-healthy, brain-boosting omega-3 fatty acids.
The key is to add the canned salmon to the curry right at the end of cooking to warm through. That's because canned salmon is already cooked – in fact it's literally cooked in the can (which also helps preserve it).
This curry is delicious served with long-grain rice (basmati is particularly good), or warm naan bread.
Simple salmon curry
serves 2
A quick, easy and delicious curry made with omega-3-rich canned salmon, tomatoes and coconut milk, and a combination of fragrant Indian spices.
2 tablespoons peanut oil
1 onion — finely diced
2 garlic cloves — minced
1 tablespoon finely grated fresh ginger
1 teaspoon each ground cumin, coriander and turmeric
1 teaspoon salt
½ teaspoon dried chili flakes
½ cup coconut milk
14 oz (400g) canned chopped tomatoes
7.5 oz (210g) can pink salmon — bones removed and broken into chunks
1 tablespoon finely chopped cilantro (fresh coriander)
Cooked rice to serve
HEAT the oil in a frying pan over medium heat. COOK the onion for 8 minutes, stirring occasionally. ADD the garlic, ginger, cumin, coriander, turmeric, salt and chili flakes and cook for 1 minute. ADD the coconut milk and tomatoes, bring to a boil, then reduce the heat and simmer, covered, for 10 minutes. Remove from the heat and stir through the salmon and cilantro. SERVE with rice.
Variations: Use canned chickpeas or pre-cooked shrimp instead of canned salmon. Use fresh mint instead of cilantro.