APPETIZERS
Pan-fried spring rolls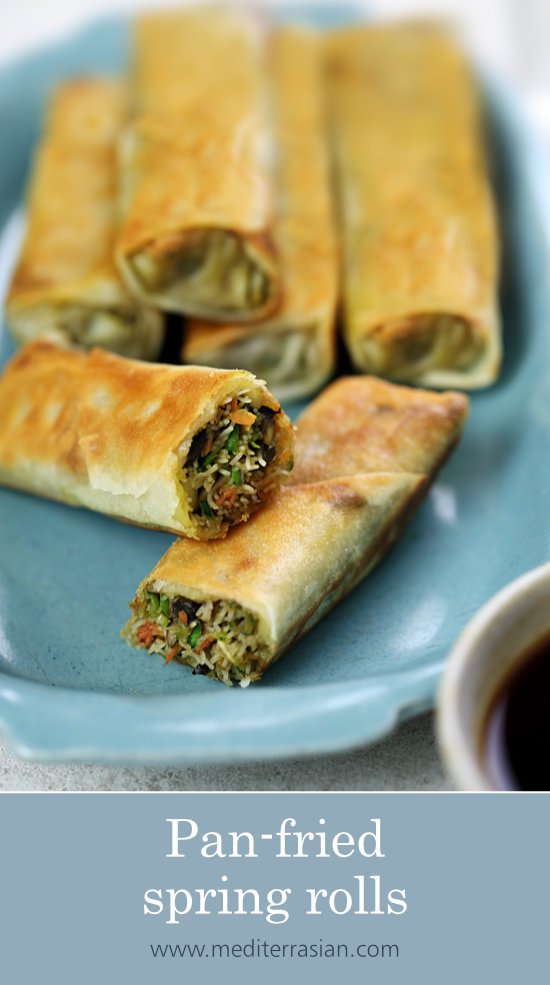 Deep-fried spring rolls are very popular throughout China and Southeast Asia, and whenever we go to a Chinese, Thai or Vietnamese restaurant we usually order them as a starter. But because they're deep-fried they tend to be quite high in calories. So in an effort to lighten the calorie load we've developed our own pan-fried spring rolls that taste just as yummy as the deep-fried version but contain far less calories.
There are lots of different ingredients you can use in the filling mixture, so feel free to come up with your own varieties: Add some protein such as cooked shrimp or chicken; use other vegetables such as bean sprouts, shredded Asian greens like bok choy, or thinly sliced peppers; for extra texture add chopped water chestnuts, bamboo shoots, or roasted peanuts; throw in some herbs like cilantro (fresh coriander) or basil; and instead of rice vermicelli noodles you can use bean thread noodles.
You can also serve these spring rolls with a variety of dipping sauces. Apart from the recipe given, we've served these with a tasty dipping sauce made by mixing together equal parts hoisin sauce, lemon juice and soy sauce. Easier still, we just mix plain soy sauce with a little water to curb the saltiness. You can also use store-bought sweet chili sauce, or plum sauce. You can find spring roll wrappers in the freezer section of Asian grocery stores and large supermarkets.
Pan-fried spring rolls
Serves 4
Crispy pan-fried spring rolls stuffed with cabbage, carrots, zucchini, mushrooms and rice vermicelli noodles. Cooked shrimp or chicken can also be added to the filling mixture for a delicious variation.
2 oz (55g) dried rice vermicelli noodles
5 tablespoons peanut or canola oil
1 carrot — peeled and grated
1 zucchini — grated
1½ cups shredded cabbage
8 large button mushrooms — wiped clean and sliced
2 scallions — thinly sliced
2 cloves garlic — minced
2 teaspoons finely grated fresh ginger
1 tablespoon soy sauce
10 frozen spring roll wrappers — thawed
3 tablespoons oyster sauce
2 tablespoons soy sauce
1 tablespoon rice vinegar
2 tablespoons water

PLACE the noodles in a large bowl and pour boiling water over them and leave to soak for 5 minutes. RINSE the noodles under cold water, drain well, then cut into 3-inch lengths. HEAT a wok or large frying pan over a high heat. ADD 1 tablespoon of the oil and stir-fry the carrot, zucchini and cabbage for 2 minutes. ADD the mushrooms and scallions and stir-fry for 2 minutes. ADD the noodles, garlic, ginger and soy sauce to the wok and stir-fry for 1 minute. TRANSFER the mixture to a large bowl and allow to cool a little. REMOVE the spring roll wrappers from the package and cover with a clean damp dish cloth. PLACE one wrapper on a board on diagonal with a corner pointing towards you. SPOON 1/3 cup of the filling across in a line towards the bottom corner of the wrapper. NEATLY fold the bottom corner of the wrapper over the filling. FOLD in the sides edges to enclose the filling, then roll up to form a neatly packed cylinder, and seal with a dab of water at the top tip. REPEAT with the remaining filling. HEAT 2 tablespoons of the oil in a large frying pan over a medium heat. PLACE half the rolls in the pan and cook for 2 minutes on all four sides (8 minutes total) until the rolls are crispy and golden. REMOVE from the pan and set aside on paper towel. COOK the remaining spring rolls in the same way. TO making the dipping sauce mix together the oyster sauce, soy sauce, rice vinegar and water in a small bowl until combined. ARRANGE the spring rolls on a plate with the dipping sauce to serve.