SOUPS
Thai chicken noodle soup in a jar
This Thai chicken noodle soup in a jar makes a great portable hot lunch. Just add boiling water, let stand for 5 minutes, then stir. Like magic, the boiling water not only cooks the thin rice noodles, it also gently poaches the vegetables and perfectly heats up the chicken. So simple and delicious, and far healthier than regular instant noodles!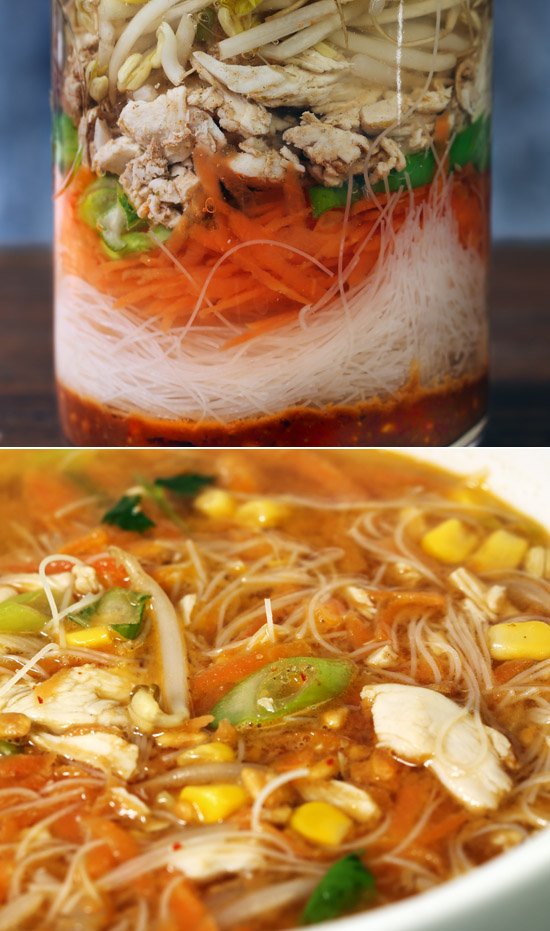 You can eat it straight out of the jar, or pour it into a soup bowl to enjoy. And there are so many tasty ways you can vary the recipe.
Instead of chicken you can use pre-cooked shrimp, sliced ham, chunks of canned tuna or cubed tofu. Instead of cilantro you can use fresh basil or mint. You can also use a wide variety of vegetables including thinly sliced mushrooms, red or yellow bell pepper cut into matchsticks, snow peas, thawed frozen peas, thinly sliced zucchini, or slices of fresh chili.
Thai chicken noodle soup in a jar
Serves 1
A simple, portable Thai chicken noodle soup with shredded chicken, bean sprouts, carrot, sweet corn, scallion and cilantro. Just add boiling water, let stand for 5 minutes, then stir for a delicious, Thai-spiced soup.
2 teaspoons Thai red curry paste
1 tablespoon fish sauce
1 tablespoon soy sauce
1 tablespoon natural peanut butter
1 teaspoon brown sugar
1 clove garlic — minced
1 oz (30g) dried rice vermicelli noodles
¼ cup grated carrot
1 scallion (spring onion) — thinly sliced
¾ cup shredded rotisserie chicken
1 cup bean sprouts
¼ cup thawed frozen sweet corn
A small handful of cilantro (fresh coriander) leaves
MIX together the red curry paste, fish sauce, soy sauce, peanut butter, brown sugar and garlic in a small bowl. ADD the red curry mixture to the bottom of a 32 oz (950 ml) mason jar. ADD the other ingredients in layers with the rice noodles first, then the carrot, scallion, chicken, bean sprouts, sweet corn and cilantro. FILL the jar 90 percent full with boiling water, screw on the lid and let stand for 5 minutes. AFTER standing, give the soup a good stir (making sure the red curry mixture is stirred thoroughly through) and serve immediately in the jar, or pour into a soup bowl.